Twizted Creationz Haunted Attration
Are you ready for a fright? Beginning at dark each night, take a frightful trip through the path of doom--IF YOU DARE! Beware of what lurks deep inside the Blue Ridge Mountains, feeding on the screams of those who dare to disturb them.
107 Creative Works Lane , Waynesboro, Virginia, 22980
This attraction is miles from your location. MAP IT NOW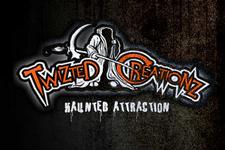 purchase tickets online on our website or at the gate. Cash or credit card Bypass the big lines with a VIP ticket! - $13.00 general admission $20.00 VIP tickets

Open Thursday, Friday, Saturday from September 25th through October 31st, for the 2015 season. Hours: Thursdays 7-10pm, Friday/Saturday 7-11pm. Haunt will begin at dark.
107 Creative Works Lane , Waynesboro, Virginia, 22980
Twizted Creationz Haunted Attration VIDEOS