Latest Central Ohio multi-attraction haunt. The Haunted Hoorah is a unique scare experience as it attacks your senses and fears with every twist and turn. The Haunted Hoorah's fright begins on a military bus as it transports recruits to the first haunted destination—the doctor's residence. It is in this two story nightmare that each recruit comes face to face with the doctor as he determines whether or not you have the substance necessary to be used in his super soldier creation program. Those recruits who are lucky enough to escape the doctor's madness will be transported to a second destination where you will come face to face with your greatest fears. Do you have what it takes? Come to the Haunted Hoorah for an experience that you will never forget!
3 East High Street, Ashley, Ohio, 43003
This attraction is miles from your location. MAP IT NOW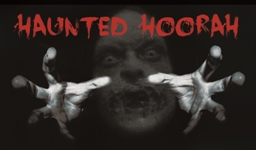 The Haunted Hoorah is one of the best multi-haunt experiences in central Ohio. You will be forced to face your fears as you attempt to ride on our 2 military transports and navigate your way through our haunts--all for the same ticket price. Do you have what it takes to face your fears? Come see us this fall at the Haunted Hoorah and find out!
$20 ticket gets you aboard the military transport vehicle to all three haunted attractions. 2017 Extreme Experience $35---Troop Transport instead of military bus and haunt turns into a touch haunt. Only 18 and older permitted with this experience. - Tickets are $20. Parking is free Extreme Experience is $35 (18 and older). Parking is still free Credit cards accepted.

View Calendar
Open Friday and Saturday beginning September 22-October 29. Sundays October 8,15, 22, and 29 - Open 8pm with last tickets selling at midnight. We will stay open til the lines are gone. Sundays 7pm-10pm
3 East High Street, Ashley, Ohio, 43003


Things You Should Know Before Coming ?Full sensory assault. ?You must be physically fit enough to withstand some stair climbing. ?You must be able to fit in a tunnel slide and be willing to disappear into the darkness of the ride. ?If you have a fear of tight spaces, you will encounter quite a few. ?If you are wondering if your child is too young—yes, they are. ?You might be touched—our soldiers and creatures are trained to scare not harm. ?Could I get hurt—yes. Don't run or hit even though these are natural reactions they are also what causes injuries. We are not responsible for any injuries. - May not be suitable for immature audiences or for mature audiences. The Haunted Hoorah will scare the crap out of you. The Haunted Hoorah contains graphic, violent horrors, disturbing images, as well as many terrifying experiences that will have each and every person facing their greatest fears—and then some.