H.H. Holmes World Fair 1893 - A Trip to Nowhere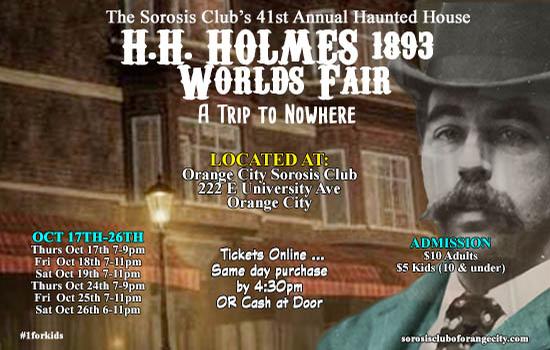 ABOUT "H.H. Holmes World Fair 1893 - A Trip to Nowhere"
The Sorosis Club of Orange City is a women's civic organization which was formed in 1958. A group of local women banded together to build a youth hall for the children of Orange City after the original hall was destroyed in a fire. The idea was to raise funds to have the hall rebuilt, and upon its completion, to continue care and maintain the hall for future generations. Through the hard-working efforts of the Sorosis Women and generous donations from local residents and Merchants, the hall was completed in the early 1960's and continues to operate today. Our Annual Haunted House Event is our biggest fundraiser of the year and supports all of our events and charitable contributions to our community.
222 E University Ave, Orange City, Florida, 32763
386-747-7614

Haunted Houses

Recommended for Guests 12 and over (SCARY)
Join our email list to receive discount offers and updates.
222 E University Ave, Orange City, Florida, 32763