Governor Sprague Mansion Museum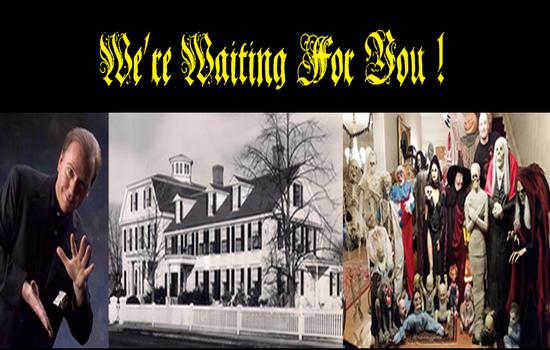 ABOUT "Governor Sprague Mansion Museum"
Its that spoooooooooky time at Governor Sprague Mansion Museum, 1353 Cranston St., Cranston --- when Cranston Historical Society Hosts its annual fundraising event: CHARLIE THE BUTLER GHOST PARTY with Jared the Magician & Mentalist on FRIDAY, OCTOBER 25 at 7pm. RI's Jared the Magician & Mentalist will be back this year with a new program to entertain guests at the spoooooooooky Governor Sprague Mansion on FRIDAY, OCTOBER 25 at 7:00 pm. The Cranston Historical Society invites you to the annual Charlie the Butler Ghost Party fundraising event. A Little About Jared: Jared DuBois is a well-known RI magical entertainer and mentalist. He has honed his skills performing mind-reading curiosities that will entertain and mesmerize. His sleight-of-hand magic with cards, coins, borrowed objects will make you wonder "How does he do that?" Event Details: Tickets: $15.00, RSVP: (401) 944-9226 -- Seating is limited. Costumes are optional—no masks. Have your future read by intriguing readers for a separate fee: Debb Brown and Larry Lastra will conduct Tarot and Psychic Readings! Friend to the Sprague Mansion, Adam Florio, will be bringing along some of is his ghoulish pals. Rooms will be open -- Enter if you dare! Light refreshments featuring Texas Road House. Handicap access lst floor; ramp in rear of Mansion & Parking. Age appropriate: 14 yrs. Send checks by October 23 to Cranston Historical Society, 1351 Cranston Street, Cranston, RI 02920 (401) 944-9226. (After Oct. 23, call Charlie to make sure tickets are still available.) www.cranstonhistoricalsciety.org About Charlie the Butler: The history behind Charles at the Mansion goes back to the 1880s. He was a butler at the mansion and had two daughters. He wanted the eldest to marry the son of the owner of the mansion. Unfortunately, it saddened Charles that it never came to fruition. It is thought he is still "roaming" the mansion distraught -- he also thought that if the daughter married the son, he would be rich, too! In an incident with a Ouija Board in 1968, Charlie's name was spelled out. About Governor William Sprague and the Mansion: Located in what was once called Spragueville. The federal style Sprague Mansion (built in 1770/1864, stands as a tribute to Rhode Island's textile history. Three generations of the Sprague family resided here. In 1808, it was from this house that the Sprague family established a calico cloth printing mill. Today, known at the Cranston Print Works, it is one of America's oldest continuously operating textile printer. Governor William Sprague IV was Rhode Island's 27th Governor during the Civil War, 1860-1863 and US Senator 1863-1875. He married the beautiful and politically-minded Katherine Jane Chase, daughter of Abraham Lincoln's Secretary of the Treasury Salmon P. Chase. He was 33 and she was 23 when they married on November 12, 1863. As a wedding gift, William gave Kate a diamond and pearl tiara valued at $50,000, and had the "Kate Chase Wedding March" waltz written for his bride. Consider hosting your special event, family gathering, or business meeting at the historic Sprague Mansion. (401) 944-9226. The Cranston Historical Society and its Museums, Sprague Mansion and colonial Joy Homestead are 501 (c) 3 historical, educational and nonprofit entities. Events and rentals help support our museums.
1351 Cranston St., Cranston, Rhode Island, 02920
401-944-9226

Haunted Houses

Suitable for All Guests and Families (MILD SCARES AND HALLOWEEN FUN)
Join our email list to receive discount offers and updates.
1351 Cranston St., Cranston, Rhode Island, 02920