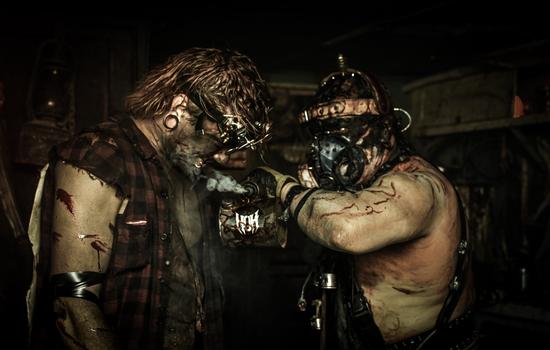 HALLS OF HORROR in Palmerton. We know there are plenty of haunted attractions to pick from. But our haunt is for Adults. Halls of Horror haunted house is not for the lightweight horror fan or those who are sensitive to abusive language and mature content. We love this time of year and spend all year long getting ready to give you the most unique haunt experience. At our haunt you and your friends go through in small groups - no squeezing you in like cattle. And, if your group is too large we split it up into smaller groups. We also host an optional BLOOD EXPERIENCE. It's the messy physically extreme version of our haunt. It's not like anything else you've ever experienced! This isn't your parents haunted house. IT GETS MESSY AROUND HERE, DON'T WEAR ANYTHING YOU'RE TOO ATTACHED TO. LEAVE YOUR GOOD CLOTHES, CHILDREN AND SENSITIVIES AT HOME.
320 Delaware Ave, Palmerton, Pennsylvania, 18071

Haunted Houses

Recommended for Guests 16 and over (VERY SCARY)
Join our email list to receive discount offers and updates.
Ticket And Price Information
Reg Haunt $25 or Blood Experience $45

320 Delaware Ave, Palmerton, Pennsylvania, 18071