Restless Souls Haunted House Complex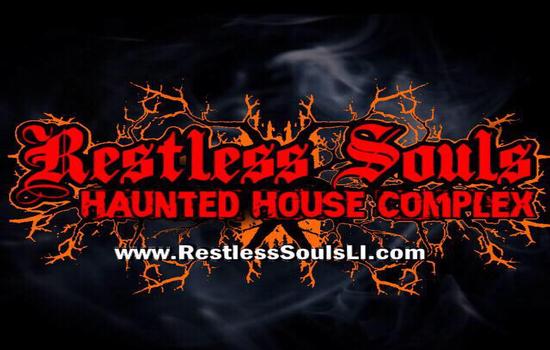 ABOUT "Restless Souls Haunted House Complex"
4 Haunted Attractions.. One Low Price. The FEAR returns to Long Island October 2019.... are you ready? Restless Souls Haunted House Complex is the Brainchild of four Haunted Attraction Industry professionals, with over 40 combined years of Haunting and Haunted Attraction Production experience. Offering Professional-Grade Haunted Attractions, along with Nightly Entertainment and a Phantom Plaza Midway, you get so much value for your ticket price, it's scary. The Haunted Attractions utilize a time-tested combination of Interactive and Up-Close Actors, Hollywood-Quality Props and Audio-Animatronics, Elaborate Sets and Controlled Lighting and Audio Design to ensure your time with our creatures is as immersive and realistic as can be. THE CAUSE Restless Souls Haunted House Complex also doubles as a non-profit fundraiser for the West Hills United Methodist Church in Huntington Station, NY (directly off of Jericho Turnpike at the entrance to Walt Whitman High School). One of the few LGBT-Friendly Churches on Long Island, proceeds from Restless Souls directly benefit the "Small Church with a Big Heart", revitalizing its youth and helping support the work of the church.
301 West Hills Road, Huntington Station, New York, 11746
(631) 319-9662

Haunted Houses

Recommended for Guests 16 and over (VERY SCARY)
Haunted House
Haunted Trails
Escape Rooms
Live Music
Join our email list to receive discount offers and updates.
Ticket And Price Information
Tickets COMBO TICKET - $27 Individual Pricing The Shack - $10 KLOWNKATRAZ In 3D - $7 The Dark Colony - $7 Alien Autopsy Escape Room - $7 Call The Deadline - 631-319-9662 for GROUP DISCOUNTS

Friday & Saturday 6:00pm - 10:00pm Sunday 5:00pm - 9pm
Restless Souls Haunted House Complex VIDEOS
Restless Souls Haunted House Complex PHOTOS
301 West Hills Road, Huntington Station, New York, 11746