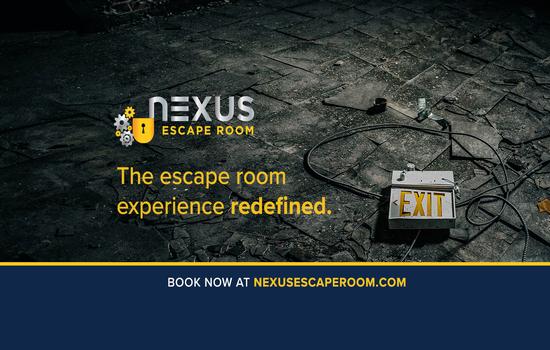 ABOUT "Nexus Escape Room"
Nexus Escape Room is a team building experience. Your team will be immersed in a themed environment where you will need to work together to find clues, solve puzzles, and ultimately escape in less than an hour. Nexus was founded by a husband and wife team who have a passion for rooms, a unique approach to problem-solving, and want to provide a fun and memorable experience to their customers.
#26, Pembroke Pines, Florida, 33024
9549982986

Escape Rooms

Recommended for Guests 12 and over (SCARY)
Join our email list to receive discount offers and updates.
Ticket And Price Information
$30 per person. Reservations are strongly recommended. Our rooms are private, therefore without a reservation we can not guarantee an available room when you arrive without a reservation.

Monday/Tuesday: Closed Wednesday - Sunday: 11a-11pm
#26, Pembroke Pines, Florida, 33024
Escape Your Nightmares
-This is a SCARY room. If leave the room because you are too scared to continue, you will not be refunded for the experience.
-There is fog in this experience. If you or anyone in your party has a senstivity to fog, you must let us know prior to your experience, so we can disable it for you.
-There are no live actors in this experience, however, there might be jump scares.
-We do not recommend this expereince for anyone who has heart conditions, epilepsy, or who is preganant.
-The room will be dimly lit.
- For the occasional solo players: There is a part of this game that requires 2 people. We will step in when needed to help you complete the puzzle.