Tucson Terror in the Corn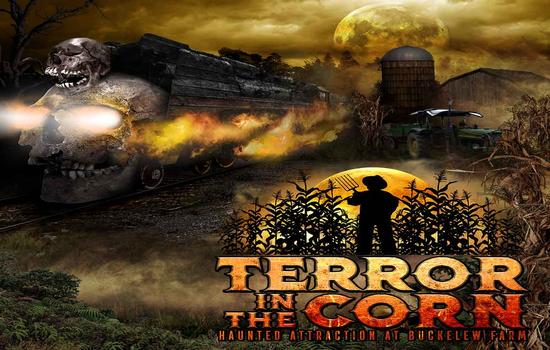 ABOUT "Tucson Terror in the Corn"
Sure, you've been to a "haunted house" - but can you imagine the frightening possibilities of a haunted cornfield? Voted Tucson's best haunted attraction for years, Tucson's Terror In the Corn is Southern Arizona's scariest and most unique Halloween event. With all new attractions, even more scares and a brand new location closer to town on Tangerine & I-10 (Exit 240), Terror In the Corn is gearing up for the greatest, most ghastly Halloween yet! Open every weekend night in October, Terror In the Corn combines three unique haunted themed areas that weave through the cornfield combining horror props and and live actors - all guaranteed to scare. Your ticket gets you access to all three haunted attractions, each more tense and terrifying than the next. In addition, you can enjoy our monster-themed Midway games (for a fee), live music, pumpkin purchases, food and drinks and much more! Enjoy a variety of "haunts" and Halloween fun, all connected by a totally immersive and terrifying cornfield. When darkness falls and the moon comes out, so do the scares, screams and surrounding terror! The corn is calling…enter if you dare!
W. Rillito Village Tr, Marana , Arizona, 85653
520-975-2409

Haunted Houses

Recommended for Guests 16 and over (VERY SCARY)
Haunted House
Midway (Games)
Haunted Trails
Zombie Paintball
3D Haunted House
Pumpkin Patch
Escape Rooms
Gift Stores
Live Music
Join our email list to receive discount offers and updates.
Terror In the Corn is open from 6pm - Midnight every weekend night in October, including select Thursdays and Sundays and Halloween night!
Tucson Terror in the Corn PHOTOS
W. Rillito Village Tr, Marana , Arizona, 85653
Our haunted attractions are among the scariest in the state. Enter at your own risk. However, if you get too scared within the attractions, please stay calm and find the closest staffer or actor in the room, and they will escort you outside. Please note, like sporting events and large attractions, if you decide it's not for you upon entering, we do not give refunds under any circumstances.
While our attraction is for all ages, due to the graphic nature of the content, Terror In the Corn is not recommended for small children, toddlers or babies. Children 12 years and under WILL NOT be admitted without an adult and parental discretion is strongly advised. A good rule of thumb is: if you wouldn't bring your child to a horror film or a PG-13 rated movie, it's probably not a good idea to bring them to Terror In the Corn.
Terror In The Corn isn't for everyone! Please be aware that there WILL be continuous scares, bright lights, loud noises, lasers, smoke, screams and related stimuli. Pregnant women or those suffering from anxiety, heart conditions, sensitivity to light or sound, or suffering from any condition that is not conducive to experiencing a haunted house are urged to avoid Terror In the Corn.
While we can and will work to accommodate all guests, no, Terror In the Corn is an outdoor event built into and around the natural terrain, so it is NOT handicap accessible at this time. Our attraction does include uneven grounds, small loose obstacles in the corn field, natural landscape like trees, corn and rocks and dark, tight spaces that can affect the experience for some customers throughout Terror in the Corn.
Our event is not recommended for people that have epilepsy, asthma, heart issues and related health concerns. We strongly recommend that pregnant women do not go through the haunted attractions. You can always ask your physician if Terror In the Corn is okay for you, but please use good judgement and do what's best for you. Safety is a primary concern of ours and we don't want anyone to get hurt.
Terror in the Corn is in an outdoor environment and built through an actual cornfield with natural elements like weather and terrain. We recommend no flip-flops, sandals or open-toed shoes and strongly urge that guests wear sneakers, boots or close-toed shoes. Depending on weather or your own comfortability, we recommend clothing or footwear based on the above information and current weather conditions.