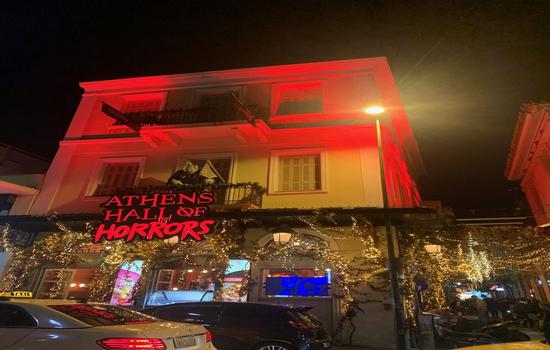 ABOUT "Athens Hall of Horrors"
Athens Hall of Horrors has opened its doors and invites you to a unique and terrifying live scare attraction experience in Athens, Greece… The brand new big-budget haunted house attraction delivers a realistic house of horror combining live scare-actors, animatronics, lighting, sound, and scent effects to create an immersive narrative-driven experience of 20-minutes, over three floors. The only attraction of its kind in Greece, Athens Hall of Horrors is an experience that you won't forget! The experience takes place in Hellaton Hall Hotel – a fictional hotel where a libertine Venetian Count has set his murder house. After selling his soul to a demon he is now immortal – but must provide sacrifice to his Master in order to ensure his immortality prevails… Athens Hall of Horrors is located in the center of Athens at 99 Ermou Street, in Monastiraki. The attraction is open daily from 5pm and on weekends from 12noon. Tickets are available at the box office or from the website www.athenshallofhorrors.gr Do you dare to check in?

Haunted Houses

Recommended for Guests 12 and over (SCARY)
Join our email list to receive discount offers and updates.
99 Ermou st, Athina, International, 105 55