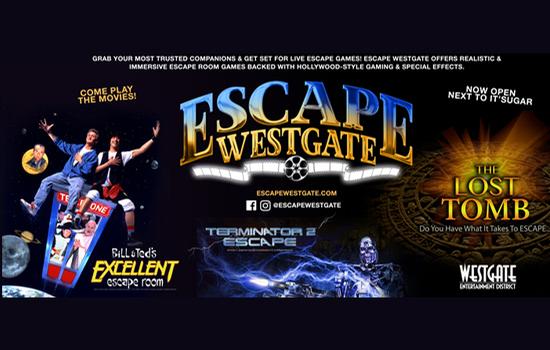 Escape Westgate offers realistic and immersive escape room games, backed with hollywood-styled gaming and special effects. Officially licensed escape rooms include Terminator 2 Escape, Bill and Ted's Excellent Escape Room, and The Lost Tomb. Come out and Play The Movies. We are located in the heart of Westgate Entertainment District. A dynamic & widely recognized regional destination in Glendale, AZ, offering a dazzling display of retail, locally & nationally owned restaurants (more than 20 of them!) & office & living space. Terminator 2: Judgment Day, T2, THE TERMINATOR, ENDOSKELETON, and any depiction of Endoskeleton are trademarks of Studiocanal S.A.S. All Rights Reserved. © 2019 Studiocanal S.A.S. ® All Rights Reserved. Bill and Ted's Excellent Adventure characters and images ™ & © 1989, 2019 Creative Licensing Corporation. All Rights Reserved.
6751 N. Sunset Blvd, E-108, Glendale, Arizona, 85305
6232821979

Escape Rooms

Suitable for all guests and families (HALLOWEEN FUN)
Join our email list to receive discount offers and updates.
6751 N. Sunset Blvd, E-108, Glendale, Arizona, 85305