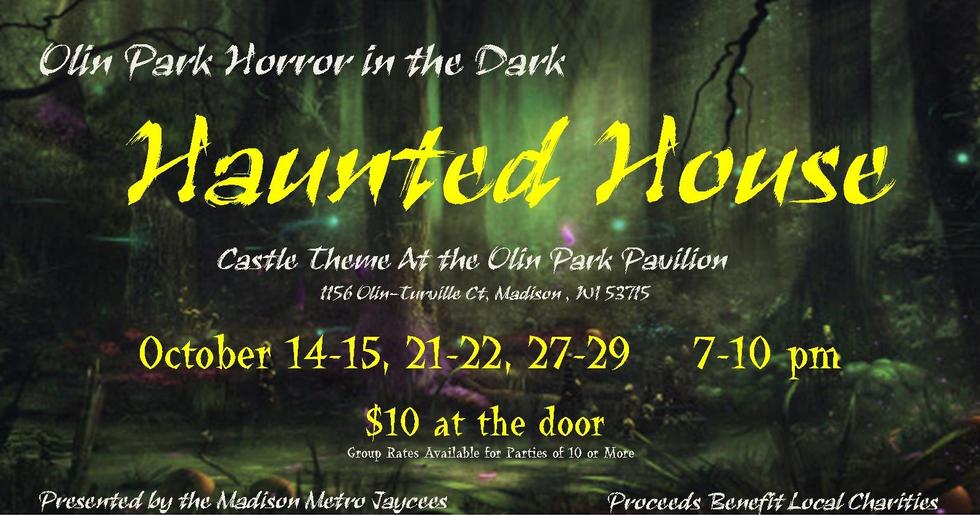 Olin Park Haunted House: This year we have a castle full of zombies. It is run by the Madison Metro Jaycees and the purpose is to raise money for local charities. Olin Park Haunted House: The Castle Just like any old castle.....Once upon a time, in a land far away, there was a curious princess named Sophia who was always getting into trouble. One day, she was walking in the castle gardens and she came across a black rose. She had never seen one before so she was very interested in it. Of course, Princess Sophia picked the rose. The black rose was cursed, and it summoned the dark knight from the underworld. The dark knight stole Princess Sophia, leaving only the black rose behind. Later in the day, when the king and queen were looking for her, they found the rose, but Sophia was gone. The king and queen were determined to find her but, unfortunately, they never did so they started to think every young maiden was their daughter. The evil sorcerer told them to test each girl by having them touch the black rose. Little did the King and Queen realize that the rose was cursed and turned them all into Zombies. The castle is now full of Zombies and run by the evil Sorcerer. Are you brave enough to enter a castle full of zombies to find the cursed black rose?
1156 Olin-Turville CT, Madison, Wisconsin, 53715
This attraction is miles from your location. MAP IT NOW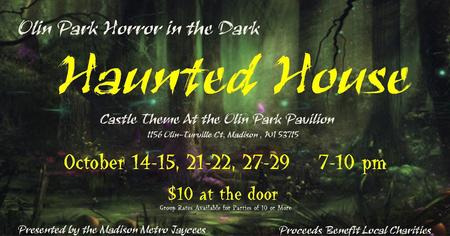 We are open October 14th, 15th, 21st, 22nd, 27th, 28th, 29th, from 7pm until 9pm. Admission is $10.
Nightly Tickets $9 from 7-10pm You may purchase tickets each night we are open. Special Halloween Matinee on 10/31 for $5 from 3-6pm.

View Calendar
October Haunt Nights: 7-10pm Friday 14th, Saturday 15th Friday 21st, Saturday 22nd Thursday 27th, Friday 28th, Saturday 29th *******************************************************************
1156 Olin-Turville CT, Madison, Wisconsin, 53715