Fatal Chaos Haunted House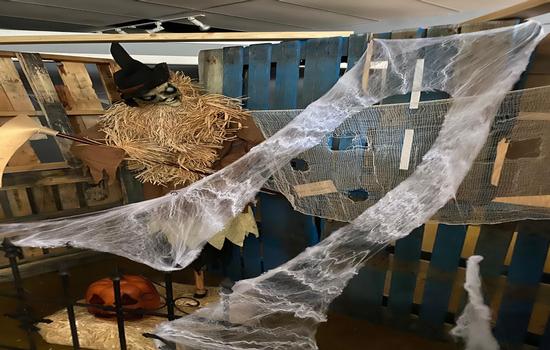 ABOUT "Fatal Chaos Haunted House"
Feel the fear! Have fun in the Great Smoky Mountains by day and get scared in Gatlinburg Tennessee by night. We are Downtown Gatlinburg's newest haunt and we want to scare the daylights out of you. Come see us on the second floor of the Carousel Mall Shops. We also have an elevator and would love you to come see us at Suite 6. You enter through the Smoky Grass Station and leave terrified. Spend your October with us and experience the fear of your life.
458 parkway, Suite 7, GATLINBURG, Tennessee, 37738-3017
8653251155

Haunted Houses

Recommended for Guests 12 and over (SCARY)
Haunted House
Gift Stores
Join our email list to receive discount offers and updates.
Ticket And Price Information
Free with minimum $10 purchase at our smoke shop next door, Smoky Grass Station.

Thursday-Sunday evenings in October Thursday 2pm-10pm Friday 2pm - 11pm Saturday 10am-11pm Sundays 2pm-7pm
Fatal Chaos Haunted House PHOTOS
458 parkway, Suite 7, GATLINBURG, Tennessee, 37738-3017
Look, we professionally scare people for a living. You take your health into your own hands if you have a health condition, such as a bad heart. You are also the ones who have to deal with your kids sleeping in your bed for the next several months if you bring them or let them attend. I'm just sayin......
This notices serves you as a warning that you are entering AT YOUR OWN RISK.
By entering this business, you acknowledge that we are not aware of any health risks that you may have. This is an extreme haunt that may affect some health disorders, with actions such as sudden frights, extreme darkness, strobe lights, fog, loud noises, sudden movements, etc. Please plan accordingly.
Children under 18 must be accompanied by a parental guardian.
Also, LIGHTERS WILL BE STRICTLY PROHIBITED. No smoking will be allowed. NEVER, under any circumstance use a lighter for a source of light. If you violate this policy, you will required to leave without refund.
Please be respectful of our actors and other guests. You may not touch the actors and they are not allowed to intentionally touch you. No eating or drinking inside the haunt at any time. Additionally, no running or touching props. No video or flash photography will be allowed inside the haunt. If you exhibit these behaviors or behavior that offends employees or guests, you will be asked to leave, without refund.
Having said that, you are here to have fun and that's what we expect you to do. Just use a little common sense and follow these simple rules and you will help ensure the safety and experience of everyone that is present.