Fishstrong Fright NIghts Feat. The Dead End Trail
This is our fifth annual haunted hayride and The Dead Ends' sixth annual haunted trail, we have joined forces yet again to bring you an amazing event, with new scares on both attractions you wont want to miss this frightful event. There is a concession stand, carnival games, and pumpkin patch. As always proceeds from the hayride will go to help local are families that are dealing with life altering illness. A portion of proceeds from the walking trail will also go to the foundation.
3100, Hubert, North Carolina, 28539
This attraction is miles from your location. MAP IT NOW
CONNECT WITH

'Fishstrong Fright NIghts Feat. The Dead End Trail'

SOCIAL MEDIA, VIDEO AND PHOTO PAGES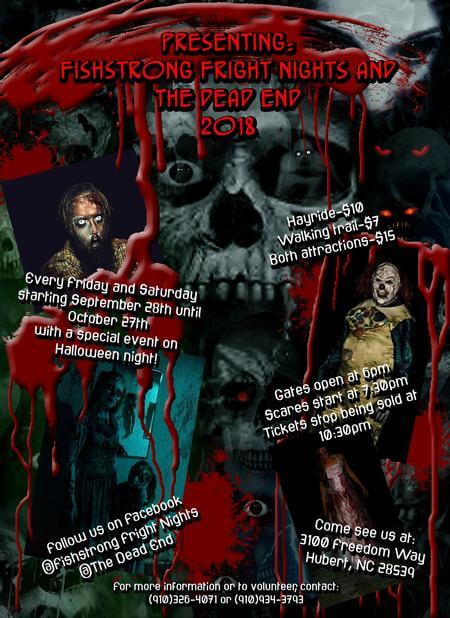 Tickets for the Hayride are $10 per person and ages 5 and under ride for free at parental discretion Tickets for the walking trail are $7 per person again children are allowed at parental discretion Combo tickets are available at the time of original purchase and the cost is $15 for both attractions.

The show will begin Friday, Sept. 28, 2018 and will run every Friday and Saturday Night until Saturday, Oct. 27, 2018 and as always we will have a special show on Halloween night. The ticket booth opens at 6 pm and closes at 10:30 pm The show itself will begin right around 7:30 pm
3100, Hubert, North Carolina, 28539