Adventures Erie - Haunted Mini Golf and ZOMBIE Laser Tag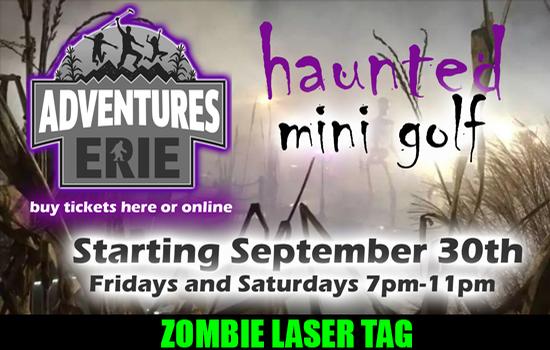 ABOUT "Adventures Erie - Haunted Mini Golf and ZOMBIE Laser Tag"
New for 2022- Zombie Laser Tag An infection is spreading in Erie County and a nest of infected Zombies has been found at Adventures Erie. It is up you and your team to eliminate as many of them as possible. You will be armed with with a Hi-Tech Battle Rifle with plenty of ammunition. However, these are not your typical Zombies. They are fast, agile and equipped with Hi Tech weapons of their own that are capable of poisoning you to a slow demise. Your mission is to take them down, fend off the infected and save Erie County! Zombie Laser Tag - Saturdays in October 6:00pm-9:30pm Haunted Mini Golf Coming back for our 3rd season, Haunted Mini Golf at Lake Unpleasant is Erie's 5 Star Google and Facebook reviewed attraction. We feature professional decorations, props, animatronics and LIVE characters will be roaming the course. You will take in the sights, sounds, and scares of the Halloween season while you play 18 holes of mini golf on our Premier course. Haunted Mini Golf is appropriate for most ages, blood and gore is minimal. There can be startles and interactions with ghoulish characters. Haunted Mini Golf - Fridays and Saturdays in October 7:00pm-11:00pm
9188 Lake Pleasant Road, Erie, Pennsylvania, 16509
8145205457

Haunted Houses

Suitable for All Guests and Families (MILD SCARES AND HALLOWEEN FUN)
Join our email list to receive discount offers and updates.
Every Friday and Saturday in October 7pm-11pm Zombie Laser Tag Saturdays Only 6pm-9:30pm
9188 Lake Pleasant Road, Erie, Pennsylvania, 16509