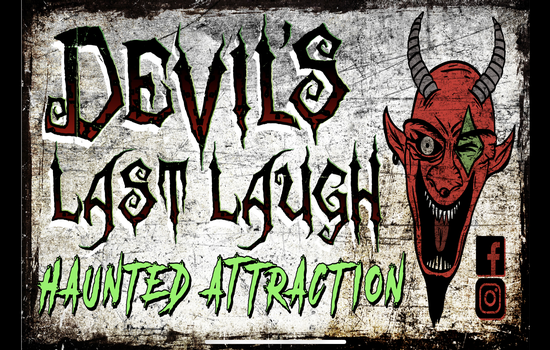 ABOUT "Devil's Last Laugh "
Devil's Last Laugh is PA's NEWEST Haunted Attraction located in Lehighton PA featuring the Headliner haunt The Walcksville Asylum! The Walcksville Asylum was founded in 1863 where Dr. Fredrick housed the most insane killers of all time. The latest and most recognized is "Mr. Pickles" who has been convicted of murder and proven insane. The time is now! This is where you come in! You will take a private tour of the asylum on this Halloween night. The Asylum has been on lockdown due to Rumors of Mr. Pickles planning a massive escape, so you will board a maintenance wagon and be transported through the many acres of the estate to the Asylum. You will then be screened by security and move forward to briefing for further instructions. This attraction will leave you shaken up for nights to come! Mastermind Kory Rabenold brings you something right out of your nightmares!!
3975Long Run Road, Lehighton, Pennsylvania, 18235
6156809457

Haunted Houses

Recommended for Guests 12 and over (SCARY)
Join our email list to receive discount offers and updates.
Open every Friday and Saturday night in October from 7pm - 10pm
Devil's Last Laugh PHOTOS
3975Long Run Road, Lehighton, Pennsylvania, 18235