Double M Haunted Hayrides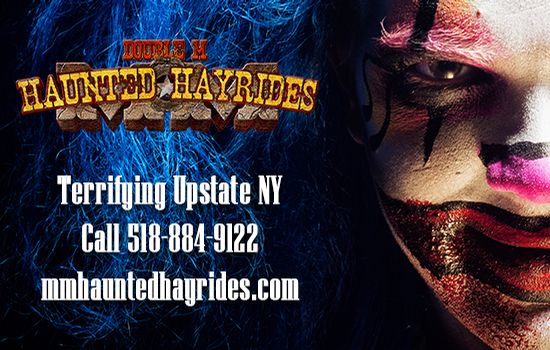 ABOUT "Double M Haunted Hayrides"
Double M Haunted Hayrides has been creating fear for over 25 years in Upstate New York! Scary Harry, the iconic ghost cowboy of Double M, has a horrifying experience awaiting you yet again this year. Your journey will begin with a true Haunted Hayride on a tractor-drawn wagon, winding through the dark woods that are rumored to be filled with spirits and creatures of unimaginable beings. At the conclusion of the hayride, your journey will continue on foot into Brutality, the deep woods compound of a tortuous family. Next up is The Last Inn, a residence that is known for a disappearing guest or two and a vicious staff. From here you will enter the not-so-merry and bright realm of Jingle Hell. Your final destination is Maximum Outage, a total darkness experience where you must rely on all of your senses to navigate and survive. The fun continues in our midway area with The Grand Apocalypse Variety Show and Killshot Zombie Laser Tag.
678 Route 67, Ballston Spa, New York, 12020
518-884-9122

Haunted Houses

Suitable for all guests and families (HALLOWEEN FUN)
Haunted House
Hayride
Midway (Games)
Laser Tag
Gift Stores
Join our email list to receive discount offers and updates.
Double M Haunted Hayrides PHOTOS
678 Route 67, Ballston Spa, New York, 12020