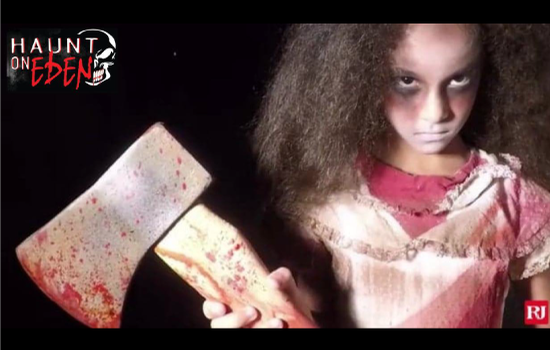 Haunt on Eden was created out of a pure passion for the scare. If you're someone who looks forward to Halloween for the blood, screams and terror, you will love Haunt on Eden. What began as a small 20' x 30' haunt at the home of Jeff and Susan Donis for the first five years, Haunt on Eden quickly outqrew their yard and moved to their new residence at the Mt. Southington Ski Area, where they have been since 2018. For four weekends in October, you can be sure to hear shrieks of horror and see frightened fans running amok...possibly (most definitely) chased by someone revving a chainsaw. All in good fun, of course! The screams, tears and laughter from a well-planned scare are what fuel the fire and creativity of Haunt on Eden, and the passioin continues to soar!
396 Mount Vernon Road, Southington, Connecticut, 06489
8608048895

Haunted Houses

Recommended for Guests 12 and over (SCARY)
Join our email list to receive discount offers and updates.
Ticket And Price Information
Individual Tickets are $20.00, or SAVE with the KILLER BUNDLE, and purchase 6 tickets for $110.00! Tickets are sold online only, and are almost always sold out. So be sure to buy in advance!

Open every Friday and Saturday in October and, in 2022, the first weekend in November (4th and 5th).
396 Mount Vernon Road, Southington, Connecticut, 06489
This haunt is not for children under 10 years of age. Our goal is to thoroughly terrify those who come through.