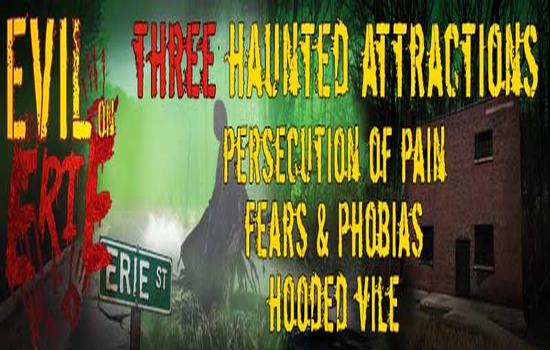 Evil on Erie Haunted House Attraction in Lafayette IN for the SCARE of your life. By accident a portal was opened, colliding 2 worlds.. In the 1950's a warehouse was built. From the outside it looked like any other building...bricks, windows, doors. But for those who worked there, a feeling of unease remained. Some employees spoke of cold spots, summer or winter. Others saw shadows. Sometimes the shadows would lash out, leaving marks on their bodies. This went on for years. The building changed ownership, but no change. The same happened. Ten years ago, the current owners built a new facility and left the building vacant. Over the next 3 years, neighbors reported hearing screams in the vacant building. The police searched but found nothing. Five years ago, the owners of Indiana Fields of Fear Haunted Attraction signed a lease. Soon their workers felt the same sensations as past employees. Wabash Valley Paranormal was called. They brought their equipment in and determined the presence of ghosts. After three investigations, including one with a local Journal and Courier Reporter, all deemed the building WAS truly haunted. The one thing reoccurring phenomenon since their investigations is... all involved have developed severe nightmares, nightmares so real that they wake with marks on their bodies. It is now believed somehow someone opened a portal to another world, one that allows nightmares to not only haunt, but to attach to all that enter the building. SO if you dare, enter Evil on Erie, house of nightmares, where your dreams really do come true!
1910 Wilson St., Lafayette, Indiana, 47904
765-746-6592

Haunted Houses

Recommended for Guests 12 and over (SCARY)
Haunted House
Midway (Games)
Escape Rooms
Join our email list to receive discount offers and updates.
1910 Wilson St., Lafayette, Indiana, 47904