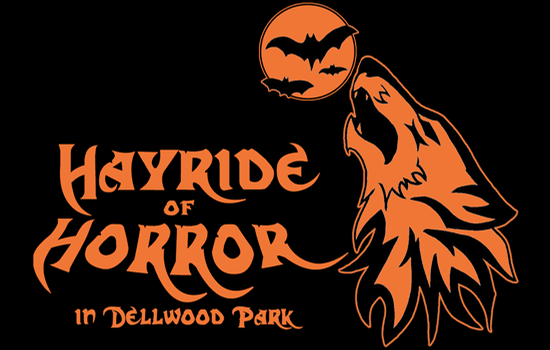 ABOUT "Hayride of Horror"
Dellwood has always been a family destination for recreation and entertainment. We invite you to ride our Hayride of Horror through the heart of this great park while the spirits of the long forgotten welcome you home. Dark and mysterious forces will play with your imagination as our creatures inspire fear. Eerie movies will air on our 20 foot outdoor movie screen while you await your Hayride of Horror, and our bonfire will warm you while keeping the evil from incinerating your soul. Line entertainment will keep you both terrified and delighted. Food and drinks are available for purchase. Please also visit our sponsor, Sizzles in Lockport, for fire grilled greatness at 110 MacGregor Road. Ticket Options: Hayride of Horror or Curse of the Bayou $15 (Group discount of 10 or more people $13 per ticket) Hayride of Horror and the Curse of the Bayou $25 (Group discount of 10 or more people $23 per ticket) Hayride of Horror and the Curse of the Bayou Speed Pass $35 (Group discount of 10 or more people $33 per ticket) Must purchase 10 tickets for group ticket discount of $2 off per ticket. The last ticket is sold at 10pm on all dates. However, the venue reserves the right to stop selling tickets at any time. You know your child better than anyone so we suggest you bring young children at your own discretion.
199 Woods Drive, Lockport, Illinois, 60441
815-838-1183

Haunted Hayrides

Suitable for All Guests and Families (MILD SCARES AND HALLOWEEN FUN)
Haunted House
Hayride
Midway (Games)
Haunted Forest
Escape Rooms
Screampark
Join our email list to receive discount offers and updates.
Ticket And Price Information
Single Pass: Hayride of Horror OR Curse of the Bayou $15 Combo Pass: Both Attractions $25 Speed Pass: Both Attractions $35

Fridays and Saturdays in October, gates open at 6:30pm and last ticket sold is 10:00pm Not So Scary Haunt Dates are October 14th and the 20th from Noon until 3:00pm. Tickets are $7 and must be be purchased in advance for Not So Scary Haunt.
199 Woods Drive, Lockport, Illinois, 60441
No physical contact with the actors
Use of flashlights, lighters or matches are prohibited
No cameras or videotaping allowed
No alcohol permitted on park property
Proper shoes are necessary, no flip flops, sandals or high heels
Warning: Be aware that we use fog and strobe lighting in our show
Not recommended for pregnant women and people with heart conditions
Warning: Please understand that the show may be too intense for small children who cannot discern fantasy from reality
This is an outdoor haunt and will close if there is severe weather.
No firearms or weapons are allowed
Guests are not allowed to come to the event in costume.
Reasonable accommodations will be made for those who need them.
---