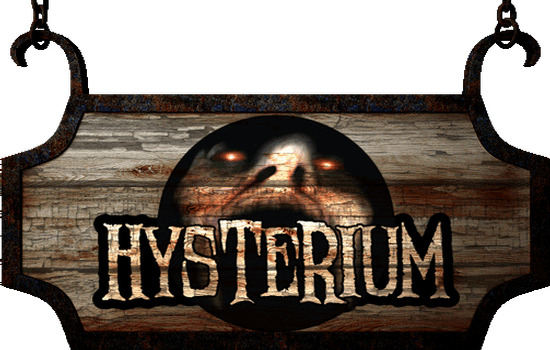 ABOUT "Hysterium Haunted Asylum"
As you enter Hysterium, you will be immersed immediately into the lobby waiting room where the patients will be glad to see you. They want to get out and the head nurse has to keep order while you await your turn in to the intake area. If you escape or not, you will be lost in the Hysterium Haunted Asylum and hopefully only have nightmares as you escape!!!
4410Arden Drive, Fort Wayne, Indiana, 46804
2604360213

Haunted Houses

Suitable for All Guests and Families (MILD SCARES AND HALLOWEEN FUN)
Haunted House
Escape Rooms
Join our email list to receive discount offers and updates.
Ticket And Price Information
$15 General Admission Online $20 At the Door: Scheduled Admission allows entrance at the :10 minute time slot you select when you purchase your ticket. You will not be allowed in early, but if you are late, you will be worked in to the line as soon as possible. Capacity is greatly limited in 2020. If a time slot shows "Sold Out" please check other time slots and dates to find available tickets.
$35 Platinum VIP: NO WAIT AT ALL - Straight to the entrance door as soon as possible. Please arrive at the time slot you select, but if you are late, we will still get you in ASAP with no waiting.
$2.99 Ticket Insurance: Refunds will only be made if Ticket Insurance has been bought and the ticket has not been checked in yet.

VIEW CALENDAR
Open every Friday & Saturday from September 25 through October 31, as well as October 22 & 29 Open 7:00 pm - Midnight Fridays & Saturdays (EXCEPT HALLOWEEN) Open 7:00 pm - 10:00 pm on October 22, 29 & 31
4410Arden Drive, Fort Wayne, Indiana, 46804
Covid-19 Policy Page
WILL HYSTERIUM STILL BE SCARY AND FUN THIS YEAR?
Yes! Safety, Scares, and Fun go together as our three biggest goals, in that order. To ensure that, nightly attendance will be carefully limited to less than 50% of our normal site capacity, and each group will be separate. You and your group of friends will be the ONLY ones allowed to enter together at any time (No more than six people per group)
All areas, que lines, ticket window, ticket check-in line, exit, and other areas of the Hysterium attraction will use and enforce physical distancing.
Because of these guidelines, some time slots may sell out in advance. We strongly recommend buying tickets online in advance. Any tickets sold at the door the night of the show will be $5 more for each ticket type plus service fees.
The Tool Shed 5 minute escape is closed and off-limits until 2021.
WHAT WE ASK FROM YOU, OUR CUSTOMERS
All guests must wear face coverings per state, county, and CDC guidelines.
All Customers will be temperature checked and anyone with a raised temperature will not be allowed to stay.
Maintain six-foot distance from other groups while on premises.
No-touch hand-sanitizing stations will be provided in at least 10 locations, along with public restrooms. Please keep hands sanitized and clean at all times.
Purchase tickets in advance to ensure the best price and that your selected evening is not sold out.
Follow all signs and instructions from Hysterium team members. Anyone who does not follow these guidelines may be warned, and can be asked to leave immediately.
All customers need to accept the Waiver via text message and show reply to the ticket attendant. Links to the system will be supplied when purchasing online tickets and on site via signs.
THE HYSTERIUM STAFF EXPECTATIONS AND PROMISE
All staff, crew, and cast members will wear face coverings at all times.
All staff will undergo nightly temperature checks upon entering the Hysterium.
Night-vision cameras are installed in many areas and every room inside to regulate the flow of guests and to ensure physical distancing.
Cleaning staff will be on site to sterilize all touch-point surfaces throughout the attraction and backstage areas; cleaning will be done frequently throughout each night. We have also removed any hanging materials from the paths and limited any touch points.
After every night performance a portable vapor mist sanitizer using CDC guideline chemical will be used throughout the Hysterium facility.
Every performer will be supplied with personal hand sanitizer, cleaning products and personal water bottles
Contact-less costume distribution in effect and costumes are not shared. Full laundry facilities are utilized when needed between nights of operation.
All of our safety guidelines and protocols meet or exceed health precaution policies as required by the City of Fort Wayne, the Allen County Health Dept, the state of Indiana Health Dept, and city and state Fire Marshal haunted house operations.
Still have questions? Please e-mail us at info@hysterium.com and we will reply ASAP to you.
The Hysterium Team is committed to enhanced standards in an effort to keep you as healthy and safe as possible, there remains an inherent and elevated risk of exposure to COVID-19 in any public place and any place where people are present. People who do not show symptoms can still spread COVID-19. COVID-19 is an extremely contagious disease that can lead to severe illness and death. According to the Centers for Disease Control and Prevention, senior citizens and persons with underlying medical conditions are especially vulnerable and at higher risk for severe illness. Guests should familiarize themselves with guidance from the Centers for Disease Control and Prevention and evaluate their risk in determining whether they should attend our attraction. If you or a family member are ill or think that you may be getting ill, please postpone your visit until you are well.
By visiting our Hysterium site, you voluntarily assume all risks related to exposure to COVID-19.