The StrongHold at Nyanza Park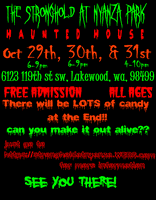 our home haunt in Lakewood, wa, open 29. 30 & 31 2018, the 29th/30th are open 6pm - 9pm and Halloween is open 4pm - 10pm come visit and maybe scream a lil' bit, this year we are doing the haunt with our neighbors so the house across the streat from us will have part of it too!!! also ITS A FREE HAUNTED HOUSE!! COME AND GO AS YOU PLEASE!! also THERE WILL BE NO EXITS IN THE HAUNT AND NO TURN AROUNDS, if you get too scared we will escort you to the end, there will be a kid friendly area in the front with candy HOWEVER, those who are brave enough to make it through the haunt will get a full size candy bar in the end. COME OVER AND SEE US, we cant wait to eat you.... i mean see you.... whatever.
6123 119th st sw, Lakewood, Washington, 98499
This attraction is miles from your location. MAP IT NOW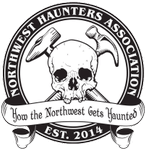 check out our friends the northwest haunters association, nwhaunters.com
The haunted house in 2018 will be free to go through, what are we gonna charge a kid walkin' down the street? Hell no ( : the link brings you to the StongHold website. ITS A FREE HAUNTED HOUSE!!!!

6123 119th st sw, Lakewood, Washington, 98499
The StrongHold at Nyanza Park VIDEOS