The StrongHold at Nyanza Park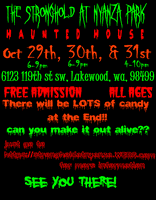 ABOUT "The StrongHold at Nyanza Park"
check out our friends the northwest haunters association, nwhaunters.com
6123 119th st sw, Lakewood, Washington, 98499

Haunted Houses

Suitable for all guests and families (HALLOWEEN FUN)
Join our email list to receive discount offers and updates.
Ticket And Price Information
The haunted house in 2018 will be free to go through, what are we gonna charge a kid walkin' down the street? Hell no ( : the link brings you to the StongHold website. ITS A FREE HAUNTED HOUSE!!!!

The StrongHold at Nyanza Park VIDEOS
6123 119th st sw, Lakewood, Washington, 98499