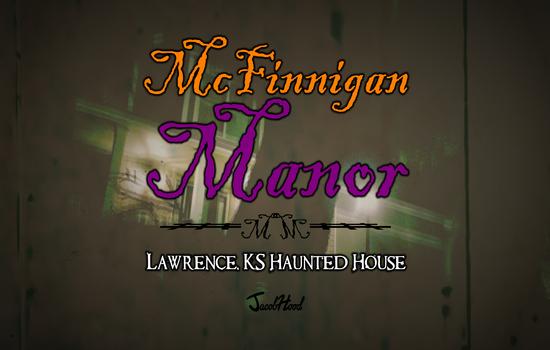 McFinnigan Manor is a home haunt attraction, not a traditional ghost tour. The Attraction: "On select evenings in October, 'Haunted Location' Ghost Tours are hosted through the remains of McFinnigan Manor; a once ominous countryside mansion, demolished in 1994 when a new house was constructed over the original basement. McFinnigan Manor is said to be one of the most haunted places in the nation, and its uninvited guests find themselves walking straight into the spirit world..."
4520 Grove Dr, Lawrence, Kansas, 66049
(785) 749-4067

Haunted Houses

Recommended for Guests 12 and over (SCARY)
Join our email list to receive discount offers and updates.
Ticket And Price Information
Free Admission, Donations Welcome - Proceeds go to United Way of Douglas County.

COVID-19 Update: Unfortunately due to the Delta variant, McFinnigan Manor will not be hosting tours in October 2021 as we had hoped. McFinnigan Manor is hosted in a residential space, and for the safety of our guests, cast and crew, we have decided to further postpone its 14th season to 2022. While this was a very difficult decision, we appreciate your patience and understanding. During the downtime, we are using the 2021 Halloween season to expand the experience, and will be unveiling new unexplored parts of the manor in 2022. In the meantime, you are also invited to our socially distanced 2021 Halloween night Taste Of McFinnigan Manor during trick-or-treating hours.
4520 Grove Dr, Lawrence, Kansas, 66049
McFinnigan Manor can be a frightening journey into the spirit world that may be too intense for young children.