The Haunted Mill in Teton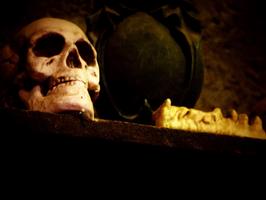 ABOUT "The Haunted Mill in Teton"
Slowly you creep across the cold damp floor of The Haunted Mill; you try not to allow the shrieks in the darkness consume your mind. You whisper to yourself, "This isn't real. The Haunted Mill isn't real." You look to your friends for comfort; but where are your friends? They were with you when you entered The Haunted Mill. Your heart begins to race and you start to breathe more heavily. You think to yourself, "Where are they? Trapped in the mine; lost in the labyrinth; dangling from the suspension bridge; caught on one of four levels of the old mill; WHERE ARE THEY?" As these thoughts race through your mind suddenly one word stands out clear: Run! Desperation sets in and your pace increases as hoards of creatures begin to close in on you. Again, louder, you hear: RUN! You can no longer ignore this command and you take off. Your screams become one of the many lingering on the cold night air. Yet, one question still remains, "Is the Haunted Mill real?" The Haunted Mill invites you to experience the largest and most terrifying attraction in Eastern Idaho for yourself by visiting us during any of our business hours. The Haunted Mill is the largest attraction of its kind in Eastern Idaho. The setting is an authentic, historic flour mill, which is the scene for many local legends. The mill itself is four levels. You will visit all four levels during your tour, but your tour will not stop at the mill. You will also explore the mill grounds which includes the original log granary, an underground mine, and all the area in between –which includes a wooded area, a maze, a waterfall, a suspension bridge and more. The entire tour will be swarming with monsters and creatures that will make our guests look forward to their nightmares. Typically, the tour takes 45 minutes. The entire tour is included in the price of your admission ticket
95 N 2400 East, Teton (Rexburg), Idaho, 83451

Haunted Houses

Suitable for all guests and families (HALLOWEEN FUN)
Join our email list to receive discount offers and updates.
95 N 2400 East, Teton (Rexburg), Idaho, 83451