Kansas Citys only haunted forest. Face your worst fears by clawing your way through the deep dark woods infested by our deranged freaks. This is a rugged, dark trail not for the faint of heart. If you are scared of getting dirty, sweaty or hiking through the dark OUTSIDE then you should pick a haunted house that is more tame in a building somewhere.
12829 Loring Rd, Bonner Springs, Kansas, 66012
This attraction is miles from your location. MAP IT NOW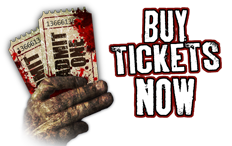 Exiled is a Haunted attraction (Haunted House) located in Bonner Springs, KS. Located just a few minutes from old downtown Bonner Springs at the home of ZipKC and the KC Timber Challenge. Prepare yourself for over a mile of hiking through the heavy dark forest infested by our deranged freaks. The hike will take approximately 45 min to an hour and require the physical stamina to climb hills, bend, stoop and crawl. You MUST wear closed toe shoes and sign a waiver to enter this attraction. The woods contain hidden rocks, obstacles, bugs, animals and other hazards. We highly recommend kids be at least 12 years old and any child under 16 must have a parents signature on their waiver to enter. Your group will be provided with small red LED lights to help you navigate the horrors waiting for you in the woods. Absolutely no flashlights, phone lights, photography or other light sources will be permitted. Tickets are available online and at the door for $25 flat. Open starting October 6th. See below for dates and hours of operations. Subject to change without notice.
Oct 6th, 7th 8pm to Midnight Oct 13th, 14th 7:30pm to Midnight Oct 20th, 21st 7pm to Midnight Oct 26th, 27th, 28th & 29th 7pm to Midnight
12829 Loring Rd, Bonner Springs, Kansas, 66012

Closed toed shoes required Recommended 12+ Tour includes 1 mile of hiking, climbing, crawling outside in the dark Waiver required to enter Under 18 must have parent or guardian sign waiver - No outside lights of any kind No photography No unruly, obscene behavior or fighting tolerated No Intoxication Violation of any rules will result in immediate removal from tour