America's Best Haunted Houses Top 13 Attractions 2010

Hauntworld.com Presents America's Best and Scariest Haunted Houses for 2010
Review by: Hauntworld Magazine
FIND THE BEST HAUNTED HOUSES IN AMERICA
Welcome to some of the best and scariest haunted houses in America. Hauntworld.com tries to review only the best haunted houses from Houston, Texas to St. Louis Missouri all the way to Philadelphia, Pennsylvania PA. When you are looking for simply the best and scariest haunted houses in America there is no other place to search than Hauntworld.com which offers our guests the best information to find the best and scarriest Haunted Houses including the best haunted attractions in the United States. There are many haunted houses and haunted attraction you can locate at Hauntworld.com, but below are America's Top 13 Scariest Destination for 2010.

Haunted houses are now the #1 form of entertainment during the Halloween season. Since 2004, Hauntworld.com continues to be the web's largest resource for finding haunted houses, hayrides, corn mazes, pumpkin patches, ghost tours and other Halloween Attractions, as well as the only site to find ratings of the best haunted houses in the nation. We have visited hundreds of haunted houses from around the World in our attempt to help you, Halloween scream-seekers, locate the best attractions across America.

Last season, we visited Universal Studios and Tampa Busch Gardens, and we found these events to be two of the best Halloween Attractions ever. This year, we learned of some new scream destinations that will send your blood curdling and make your hair stand on ends. Are you ready to explore America's scariest, spookiest, and downright over-the-top haunted houses imaginable? Journey with us and discover America's Best Haunted Houses 2010, where we'll introduce you to the most horrifically haunting events including haunted houses, haunted hayrides, amusement park haunts and more.

If you don't see a haunt near you on our list, please visit HauntWorld.com to locate haunted houses by city, state, zip code or by type of attraction. If you're looking for a family-friendly Halloween attraction, like pumpkin patches and more, please visit www.HalloweenAttractions.com. We at Hauntworld.com and HauntedHouseMagazine.com encourage you to visit as many Halloween attractions as you can to support all the small business owners in your local area.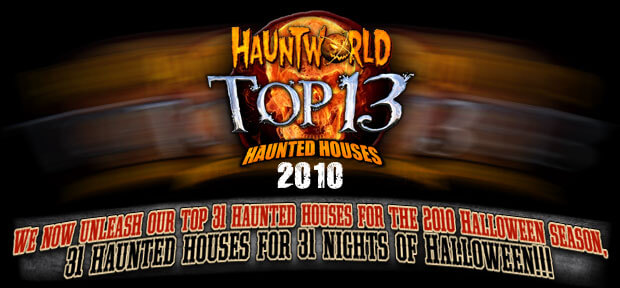 1. Netherworld Haunted House – Atlanta, Georgia,
www.fearworld.com
.
Netherworld is a pinnacle haunted house attraction that truly transforms actors into horrific monsters of fright. This haunt is the industry leader in developing new scare techniques utilizing the perfect balance of live actor/animatronic scare zones. Outside the entrance, a dedicated army of monsters scare patrons before ever even entering the doorway. Netherworld is a MOST ENTERTAINING haunt you will not want to miss!

2. Bates Motel / Pennhurst Asylum – Philadelphia, Pennsylvania, www.thebatesmotel.com. The Bates Motel is more than just a haunted house. It's a major league SCREAM PARK with detailed haunted houses and a massive haunted hayride that's sure to have you screaming in fear! Bates Motel is well known for its use of the most amazing pyrotechnics ever included in a haunted hayride. For 2010, there's a second reason to fear Philadelphia as Pennhurst Asylum opens its doors to the public as one of the scariest REAL haunted houses in America: www.pennhurstasylum.com

3. The Darkness Haunted House – St. Louis, Missouri, www.scarefest.com. The Darkness is a powerhouse haunted house with Hollywood quality special effects, live actors, hundreds of animations, and amazing set design detailed throughout two floors of fright. The Darkness is the only haunted house to be featured on Modern Marvels, National Geographic Channel and Travel Channel. The Darkness has been hailed by many as America's best. In St. Louis, you'll also want to visit Creepyworld Haunted Screampark and the all new Lemp Brewery Haunted House.

4. 13th Gate Haunted House – Baton Rouge, Louisiana, www.midnightproduction.com. 13th Gate Haunted House is rated once again as the best haunted house in America two years running by Hauntworld.com. This haunt has it all! Not many haunted houses in America have reached this superior level of detail. Amazing sets, incredible special effects, Hollywood-quality makeup artists, and more transform this location into a massive scream factory!

5. Headless Horseman – Ulster Park, New York, www.headlesshorseman.com. Headless Horseman is a fearful force not to be reckoned with. It's an industry giant and includes one of THE BEST haunted hayrides in America. The Headless Horseman himself will chase you down and hunt your soul inside this massive scream park of horror nestled on an old eerie farm in Ulster Park, NY. The landscape provides an authentic Halloween experience that's sure to terrify all who dare enter.

6. The Beast – Kansas City, Missouri, www.kcbeast.com. The Beast Haunted House, one of the biggest and best indoor haunted attractions in the nation, spans FIVE FLOORS of fear with set design, ghost illusions, and detail to match the largest big-budget movies. The Beast is simply a "beast" of a haunted house, packing so much terror into an enormous building large enough for 10 typical haunted houses. You'll be asking yourself, "Will this nightmare ever end?"

7. Spookywoods - High Point, North Carolina, www.spookywoods.com. Spookywoods is MORE than just a haunted house. It's an entire scream park of terror including a corn maze, haunted trail, haunted house and even a haunted tram ride. The Spookywoods location also features one of the biggest daytime Halloween events in the nation. The Halloween fun includes dino digs, zip lines, pumpkin patches, and so much more. When night falls, send the kiddies away because the ghouls come out to play…and they don't play nice at Spookywoods.

8. Erebus Haunted House - Pontiac, Michigan, www.hauntedpontiac.com. Erebus is the most unique haunted house in America. Every scene and prop in Erebus haunted house has an animation or special effect to horrify customers into the frights of their lives. Erebus is also one of America's longest haunted houses once holding the Guinness Book of World Records. Erebus is a multi-level haunted house with tens of thousands of dollars spent on special effects to bring you the ultimate scare.

9. House of Torment – Austin, Texas, www.houseoftorment.com. House of Torment (HOT) is a horrific haunted house experience that HauntWorld discovered back in 2008 and featured on the cover of HauntWorld Magazine. HOT brings you an unmatched, in-your-face FEAR and takes it to new horrific heights with icon monsters, over the top marketing, edgy scenes and blood-curdling screams!

10. Cutting Edge Haunted House - Fort Worth/Dallas Texas, www.CuttingEdgeHauntedHouse.com. Cutting Edge Haunted House is the reigning champion of the Guinness Book of World Records longest haunted house! Easily described as a never-ending journey through hell, Cutting Edge is located in an eerie old meat packing plant. Closed down for many years, they're now processing meat once again…meat of human flesh! Enter if you dare inside the Dallas area's BEST haunted house.

11. The 13th Floor Haunted House - Denver, Colorado, www.getscared.com. The most detailed and elaborate haunted house in Denver is The 13th Floor featuring breath taking sets, scenes, special effects, and the SCARIEST monsters on the planet. The masterminds behind The 13th Floor Haunted House also own two other amazing haunts in Denver, The Asylum and Blood Shed. When visiting Denver, you must visit all three haunted attractions for the scream of your life!

12. Dent Schoolhouse – Cincinnati, Ohio, www.frightsite.com. The Dent Schoolhouse is new to our top 13 list, and we've discovered a goldmine of FEAR with this one! The Dent Schoolhouse features incredible story telling, horrific set design, and amazing fright inside one of the creepiest buildings we've ever encountered. Was that a costumed monster or the haunting of a REAL ghost? You be the judge, if you survive The Dent Schoolhouse.

13. Nightmare on the Bayou - Houston, Texas, www.nightmareonthebayou.com. Nightmare on the Bayou is a terrifying haunted house experience that plays on your every heart-pounding fear. It's called a "nightmare" for a reason. If you escape Nightmare on the Bayou, you'll also want to visit their massive Halloween costume retail store where you can stock up on all the 2010 must-haves for the Halloween season. You need it; they got it at Party Boy.
The List Doesn't End There... 14th through 31st listed below:
Turn the number 13 around and you come up with 31, so the list continues on.
There are 31 days in October, so there's a top rated haunt listed for each day in October.

14. Jason's Woods, Lancaster, Pennsylvania www.jasonswoods.com
15. Field of Screams, Lancaster, Pennsylvania, www.fieldofscreams.com
16. Hundred Acres Manor, Pittsburgh, Pennsylvania, www.hundredacresmanor.com
17. Bennett's Curse, Baltimore, Maryland www.bennettscurse.com
18. Creepyworld, St. Louis, Missouri www.scarefest.com
19. Terror Behind The Walls, Philadelphia, Pennsylvania, www.easternstate.org
20. Atrox Factory, Leeds, Alabama www.atroxfactory.com
21. Bayville Screampark, Long Island, New York, www.bayvillescreampark.com
22. Dead Acres, Pataskala, Ohio, www.deadacres.com
23. Haunted Schoolhouse and Lab, Akron, Ohio, www.hshlab.com
24. Fright Kingdom, Nashua, New Hampshire, www.frightkingdom.com
25. Haunted Overload, Lee, New Hampshire, www.hauntedoverload.com
26. Nightmare New England, Litchfield, New Hampshire, www.nightmarenewengland.com
27 Edge of Hell, Kansas City, Missouri www.edgeofhell.com
28. Asylum Haunted House, Denver, Colorado, www.getscared.com
29. Terrortown, Toledo, Ohio, www.terrortown.net
30. Haunted Cave At Lewisburg, Lewisburg, Ohio, www.hauntedcaveatlewisburg.com
31. The Asylum, Las Vegas, Nevada www.lasvegashaunts.com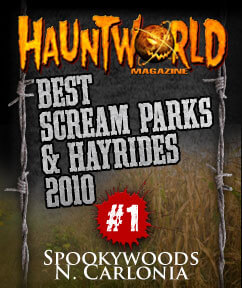 Best Scream Parks / Haunted Hayrides in America 2010
by Hauntworld.com
A "Scream Park" style haunted attraction is like an outdoor shopping mall of haunts. They typically include several haunts at one large outdoor location with a possible combination of haunted hayrides, haunted midways, sideshows, trails, corn mazes and more. Most offer their entire package of horror for one low price.

1. Spookywoods, High Point, North Carolina www.spookywoods.com
2. Headless Horseman, Ulster Park, New York www.headlesshorseman.com
3. Bates Motel, Glen Mills, Pennsylvania www.thebatesmotel.com
4. Creepyworld, St. Louis, MO www.scarefest.com
5. Field of Screams, Mountville, Pennsylvania, near Lancaster, PA www.fieldofscreams.com
6. Jason's Woods, Lancaster, Pennsylvania www.jasonswoods.com
7. Nightmare New England, Litchfield, New Hampshire, www.nightmarenewengland.com
8. Screampark, Lexington, KY, www.scarylexington.com
9.
10. Pure Terror Scream Park, Orange County, NY, www.pureterror.com



Are you looking to find the scariest places on Earth to get scared? All of the attractions below are either real haunted sites offering ghost tours, or they're real haunted locations turned into professional haunted house attractions. Many people LOVE to explore real haunted houses, conduct a paranormal investigation or go ghost hunting. HauntWorld Magazine has created a list just for those people. Below is our list of our top 10 favorite places to find ghosts and spirits, while also experiencing a Halloween attraction: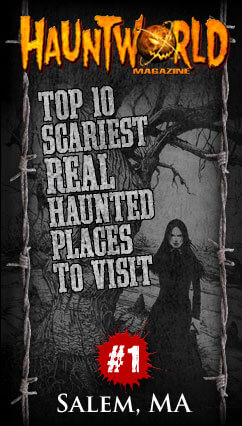 America's Top 10 Scariest Real Haunted Houses and Places to Visit

1. Salem, Massachusetts: www.salem.org. Salem is the best place in AMERICA to get scared because it has more haunted houses, ghost stories, witch museums, and Halloween related events than any other place in America! Salem is our hands-down top pick for locations to visit during Halloween season!

2. Pennhurst Asylum: One of the most infamous real asylums in America, shut down by the government for abuse against patients, has reopened its doors. After thirty years, this long abandoned property now brings you one of the most terrifying haunted house adventures ever…The Pennhurst Asylum Haunted House. Walk the grounds and see the eerie inside of this 100 year old building. Prepare yourself for real ghosts and spirits of the dead. Pennhurst Asylum was featured on Travel Channel as one of America's scariest REAL haunted houses, and today it's a real haunted attraction. Learn more at www.pennhurstasylum.com.

3. Waverly Hills Sanatorium: Louisville, Kentucky, www.therealwaverlyhills.com. This historically haunted place is run by The Waverly Hills Historical Society, and it not only offers paranormal tours, but you can book an overnight investigation too. Paranormal investigators from all over the country continue to visit the sanatorium. Additionally, this location offers an elaborate haunted house attraction during Halloween season. I don't doubt for a minute it's filled to the brim with actual ghosts!

4. Lemp Mansion and Lemp Brewery Haunted House: This 1860's mansion was home to the Lemps, a prominent St. Louis family and owners of one of the largest breweries in the World until prohibition, the start of the family's demise. One family member died under mysterious circumstances, four took their own lives, and one died of heart attack ALL inside the mansion itself. Today you can visit the Lemp Mansion for ghost tours, mystery dinners, and even overnight investigations. Next door, visit one of America's scariest haunted houses located under The Old Lemp Brewery inside real caves and caverns. Years ago, the natural cave system under St. Louis provided the perfect temperature for aging beer. Today, it's a horrific haunted house experience like no other. Visit www.lempmansion.com or www.Scarefest.com for more details.


5. Eastern State Penitentiary: In 1829, Eastern State Penitentiary opened its doors to criminals, murderers and more. The prison closed its doors in 1970 and remained abandoned for two decades until it was opened for daytime prison tours and museum. It's one of America's oldest standing prisons and home to ghost hunting, paranormal investigations and one of America's longest and best haunted houses in the nation, Terror Behind the Walls. Visit www.easternstate.org for all the gory details.

6. New Orleans, Louisiana: Visit New Orleans and see some of the scariest graveyards in America with crypts, voodoo shops and YES several haunted houses too! House of Shock (www.houseofshock.com) and 13th Gate Haunted House (www.midnightproduction.com) are sure to please, but another nearby haunt is located in a REAL mortuary. Check out The Mortuary Haunted House at www.themortuary.net.

7. Winchester Mystery House: San Jose, California, www.winchestermysteryhouse.com. This mystery house is filled with endless rooms of eerie intrigue. Turn off the lights and try to find your way out. Legend has it that ghosts inspired the original owner to keep building onto this house…the house that never ends.

8. Alcatraz Island: San Francisco, California, www.nps.gov/alcatraz. Through the years, Alcatraz served many purposes from a military base to a prison, America's most infamous prison actually. Housing prisoners like Al Capone and other notoriously hardened criminals, Alcatraz had been the subject of much controversy. Just the thought of Alcatraz conjures up ghostly thoughts of the paranormal, but it now serves as San Francisco's number one tourist attraction.

9. Lizzie Borden Bed and Breakfast: Fall River, Massachusetts, www.lizzie-borden.com. Well over 100 years ago,"someone took an axe and gave a man eleven whacks." Both Lizzie's father and step mother were slaughtered. Lizzie stood trial for the murders, but was found not guilty. Today, you can spend the night in the same room where Lizzie's parents were killed. The actual house of the murders is now a museum and bed and breakfast.

10. Niagara Falls: Ontario, Canada, www.cliftonhill.ca. Niagara Falls has a ton of haunted houses. Several of which are found up and down the old Clifton Hills. Even the wax museum has a makeshift haunt s as part of the show. Additionally, you can check out the Fort George Ghost Tours, St. Catherines Haunt Walks, Drummond Hill Cemetery and more haunting sites while visiting Niagara Falls this season.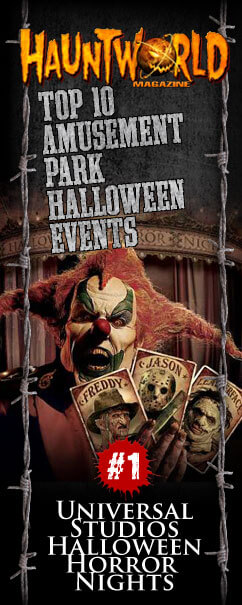 Top 10 Amusement Park Halloween Haunted Events
Today, amusement parks are full-blown into the Haunted House business putting on some of the biggest haunted events in America, but some amusement parks do haunting better than the rest. Through our travels, we've found that many amusement parks simply produce a low-budget haunted venue in an attempt to extend their amusement season. However, there are some amusement parks that take their haunting seriously and take their Halloween attractions to another level. Last year, we visited Universal Studios Florida and Tampa Busch Gardens to settle the score of who has the best Halloween event.

Universal could win due to the sheer fact they have so many attractions already suited for Halloween: 'Jaws', 'Men in Black', the Monster Café, the Horror Make Up Show, even Shrek 3D movie is based around Halloween. Universal also has an edge with their collection of horror movies to pull from like Frankenstein, Dracula and the new Wolfman movie. But take all that away, and Universal still produces some of the most detailed haunted houses we've ever seen. Plus, their attention to detail within the park itself really sets them apart, and we really loved the scare zones too. On the flipside, Tampa Busch Gardens wins on unique originality and hard core haunting. Tampa really pushes the envelope with IN YOUR FACE scares more so than Universal. Tampa Busch Gardens in our opinion had the scarier attractions while Universal overall brought the fire power in detail and park decor and the sheer volume of what they offer. We highly recommend both, and we hope to visit MORE amusement park haunts in the future.
When trying to choose between Universal Studios Florida and Tamba Busch Gardens we suggest you VISIT BOTH attractions. Tampa and Orlando are only an hour apart and you will truely visit the two best haunted screamparks in America.

Here's our 10 best list:
1. Universal Studios Horror Nights, Orlando, FL - www.halloweenhorrornights.com
2. Tampa Busch Gardens, Tampa, FL - www.howl-o-scream.com
3. Knott's Scary Farm, Los Angeles, CA - www.halloweenhaunt.com
4. Universal Studios Horror Nights, Hollywood, CA - www.halloweenhorrornights.com
5. Kennywood Amusement Park, "Phantom Fright Nights", Pittsburgh, PA - www.kennywood.com
6. Busch Gardens, Williamsburg, VA- www.howl-o-scream.com
7. King's Island Haunt, Cincinnati, OH - www.visitkingsisland.com
8. Cedar Point Haunt, Sandusky, OH - www.cedarpoint.com
9. Six Flags Fright Fest, Jackson, NJ - www.sixflags.com/greatAdventure/events/FrightFest
10. Old Tucson Studios Nightfall, Tucson, AZ - www.oldtucson.com
Search for haunted houses near me.