Haunted Houses and Haunted Attractions Zombies Runs Find

I think I've said this many times over the years…"What we do must evolve." Otherwise, we'll be left behind. I've been around this industry long enough to know and understand how it started, how it grew in popularity and why it's so popular now. The haunt industry has single-handedly grown the entire industry of Halloween through millions upon millions of dollars in marketing over the last 20 years. The audience grew with us. Haunted houses are NO LONGER simply an 18-34 target business. It's now beloved by Halloween fans into their late 40's-50's as well as preteens & teens of all ages. As the audience for Halloween entertainment has grown in age, so have the diversity of the different types of attractions. Are we finally starting to see a real challenge to the haunted house supremacy?
---
---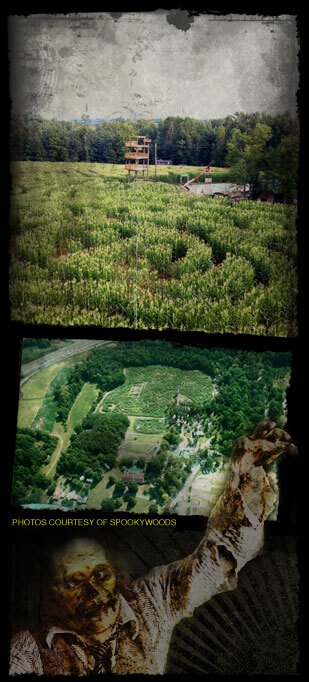 I would say YES… The haunted attraction we know will start to fade in popularity as other forms of Halloween entertainment emerge and grow. Ten or twenty years ago our biggest competition was the horror movies released in October and the competing haunted houses that opened each year. Now, we see fewer new haunts opening in the big cities due to the start-up expense of building and marketing a competing haunted house that meets today's high standards. Haunts that try to open without spending the necessary dollars to truly compete, fall victim to the social media World we live in now. You simply cannot buy some radio spots making false claims that you're the scariest and it hold up. Today, people attend haunted houses, movies, events, whatever, and then flock to Facebook and Twitter to write about it. If your haunt isn't up to the highest standards, they'll proceed to level your place in minutes! Before you know it, your new haunted house is being torn apart and everyone knows your event is horrid... game over! It's impossible to stay ahead of the social Tweets and posts on Facebook. The only solution… We MUST produce a great product!

Have we run out of ways to scare people? Are our customers looking for something new to spend their Halloween dollar on? Possibly YES, and if our industry doesn't evolve again, we may be the second choice of those looking for Halloween entertainment.

If you ask me, many haunted houses have become homogenized, buying the same stuff from the same vendors, year after year, and even much of the hand-crafted pieces are just knock-offs of something else. Are we looking for the next best thing? Do we spend our time and energy being creative and original? Visiting a Halloween show known in the industry as being original and newly creative is good. Attending these haunts looking for direction and inspiration is good. Buying from haunted house vendors is good. But don't just buy equipment and items that compliment what you already created. Revamp, recreate, and reinvent!

For The Darkness Haunted House, we don't purchase straight from the tradeshow floors. Rather, we come up with our plans for the following season and then contact vendors to ask about creating custom pieces. You'd be surprised how many vendors are now producing made-to-order products for their clients. Don't get me wrong, each year we go to the Halloween shows and find amazing new products from some of the most creative people in the World. However, we can't all buy the same items and have the same animations, scares, costumes & masks. I will go one further…Some of you follow the paths of other haunts in your market, thereby creating an entire city of the same style haunted houses. In the days of social media, business owners can create quick word of mouth about something new and exciting which preys on the public's thirst for Halloween entertainment.

Hollywood no longer launches their tent pole horror movies in October, probably because they know the competition is too fierce for PR during October. Additionally, they've realized that the public wants zombies, horror & monsters more than just one seasonal time per year, so they now feed that horror entertainment need year round! Texas Chainsaw Massacre 3D will be released in January. I Frankenstein will release in February. Carrie (re-make) releases in March, Evil Dead (re-make) releases in April, and the list goes on. Television has jumped on the Horror bandwagon too with shows like Walking Dead, American Horror Story, Vampire Dairies and the very gory True Blood. What does any of this have to do with the haunted house industry? Shows like True Blood helped create a Vampire craze, and shows like Walking Dead helped to create an entire Zombie craze. With any craze, there are people around every corner thinking of creative ways to capitalize, thereby creating additional Halloween entertainment which can and does compete with our haunt industry for the entertainment dollar.

Today, major amusement parks are working closer with Hollywood to promote brands like Walking Dead and Saw. Universal Studios is the proudest example of this diversification towards staying with what's HOT rather than doing the same thing every year. Right now Zombies are the hot thing, so Universal responds by making a deal with Walking Dead to capitalize on the success of the brand. Trust me when I tell you… Other amusement parks as well as private business owners have taken notice. If a buck can be made, they will jump on it in a major way!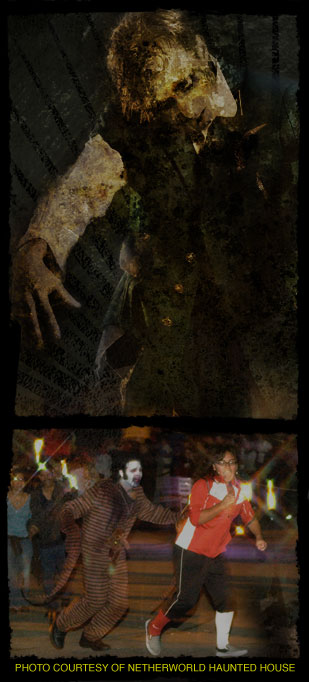 Haunt & Halloween attractions have come FULL circle. What is this form of entertainment really? I'm going to go on record to say it's no longer the Haunted House Industry. With half of every dollar made for entertainment now going to the mega Halloween pumpkin patch attractions, Halloween Attraction Industry sounds better to consider. But let's continue to think about this for a second... With all new entertainment emerging like Zombie Runs which attract as many as 15,000 paying customers, what about the Horror Attraction Industry? It's mind-boggling with Halloween themed entertainment coming from every direction including massive corn mazes, zip lines, fall festivals, hayrides, even blacklight mini golf attractions with monster themes have emerged. And no longer are the pumpkin patches simply just pumpkins. They now offer full blown attractions and events, spending tons of money on marketing, picking up tons of publicity and drawing in tens of thousands of customers.

Zombie Runs like Run for Your Life, are setting up Zombie obstacle courses all over America and drawing up to 15,000 customers at $85.00 per person, and get this… they even charge the Zombies to be Zombies! I recently attended one of these events and it was very interesting to see the wide range of ages and the sheer number of customers. People lined up for miles to run through a Zombie infested obstacle course, slide through mud, climb up slides, be chased and more! I never thought in a million years that 7000 people would pay high dollar to run around and be chased while major companies lined up to pay for sponsorship of these events. These Zombie Runs are now so popular that I can't imagine any haunted house in the country having the same level of success for a single day's event. They steal away interest, and they create a new expectation by our guests. The public wants something new and something different. They want the next best thing…End of story!

Will you cut the cake simply with buying some animations and putting your customers through the same paces as last year? Will it be enough to continue sending groups into your attraction with actors jumping out trying to dish out the scares? Will this cut the mustard for the next 10 years? How about the next 18 months? Big businesses with deep pockets are all over Zombie mania, Horror entertainment & Halloween attractions. You can expect to see more and more different types of entertainment being offered each Halloween. I will also add the Scream Park style attractions are trumping the single standing haunted houses left and right. Customers now want more variety, they want the bigger and the better, and they want something new and different. These new types of Halloween & Horror events and attractions are thriving and getting bigger. They offer YOUR clientele a variety that didn't exist before. Your new biggest competition isn't from other haunted houses anymore. Your competition is EVERYTHING that profits from this year round craze for horror. Now is the time to visit a Halloween attraction, a Zombie Run, Universal Studios, a region mega Scream Park and any event or attraction or production cashing in on the zombie & monster craze. Now is the time to evolve, change, adapt & think outside the box.

I don't believe you will continue to enjoy tons of publicity, large crowds, and continued success without putting a spin on your event. Find a way to separate yourself from the status quo haunted house. Find a way to reinvent what you offer. This year, one of my haunted attractions will introduce Zombie Paint Ball to our hayride. I realize now more than ever it's not just about making people scream or chasing them around a maze. It's about entertaining guests. Your guests want you to take their minds into new realms of horror entertainment. They want more interaction and they want something new and different and exciting. The Zombie Paint Ball was VERY expensive to launch, but I believe it's something I had no choice but to do if I expect to keep my Scream Park fresh. And it's a way to capitalize on the new zombie craze at the same time!

Is a Zombie Paint Ball Hayride the answer? For this year it is, but honestly it's just another stepping stone, another layer of the cake. If I stop reinventing or stop trying to add that next new thing, I could find myself on the outside looking in. The same goes for you. There are more haunts falling into the 10,000 guests range and fewer heading towards the 50,000 plus range. Netherworld is a perfect example of an attraction which continues to find new ways to reinvent. By taking their haunted house out into the parking lot, Netherworld created a new environment. They might have more actors roaming their parking lot than you have in your entire haunted house, and Netherworld is doing more attendance than probably any stand-alone haunt in America. I see fewer new haunts opening, and more haunted houses closing over the coming years as people discover opening a haunt is NOT a huge money maker, and still others will close because they fail to adapt.

There are many things you can do to grow your business and differentiate yourself from your competition. For example, use a different web designer, get different graphics, use new vendors, try getting custom props made, or find that spin to make your event more interactive than ever before. Not only is it time for our attractions to evolve towards entertaining the masses, but also to differentiate from other haunted houses. Do you have similar themes, websites, graphics, props, or costumes? Dare to be different.

My haunted friends, Halloween & horror entertainment is now a multibillion dollar industry and we are no longer alone! As all of these new forms of entertainment gain momentum and popularity, we as an industry must continue to evolve towards something new and exciting, which might not just be about making someone SCREAM!

Good luck this Halloween, and do yourself a favor… Be one step ahead rather than 10 steps behind. Your friends at Hauntworld are merely trying to provoke a debate, a discussion, a thought process about the future of this great industry! The time is now to look around and see what your consumers are being offered and what options are available to them for that same fall entertainment dollar that you once monopolized. Reinvent, recreate and discover what will keep our industry in the driver seat!

Happy Hauntings