Texas Haunted Haunted House Cutting Edge - Dallas, Fort Worth

Fort Worth, Texas Haunted House - Cutting Edge Haunted House
Tricia Psarreas
FIND THE BEST HAUNTED HOUSES IN TEXAS
Haunted Houses in Fort Worth, Texas are some of the scariest haunted houses in America. Hauntworld.com tries to review only the best haunted houses in Fort Worth, Texas. When you are looking for simply the best, scariest, haunted houses in Texas there is no other place to search than Hauntworld.com which offers our guests the best information to find Texas Haunted Houses including the best haunted attractions in Fort Worth, Texas. There are many haunted houses in Fort Worth that claim to the best haunted attraction but only one can truly lay claim to the being the scariest haunted house in Texas... Cutting Edge Haunted House in Fort Worth, Texas.
To learn more about Fort Worth, Texas Cutting Edge Haunted House visit their website below: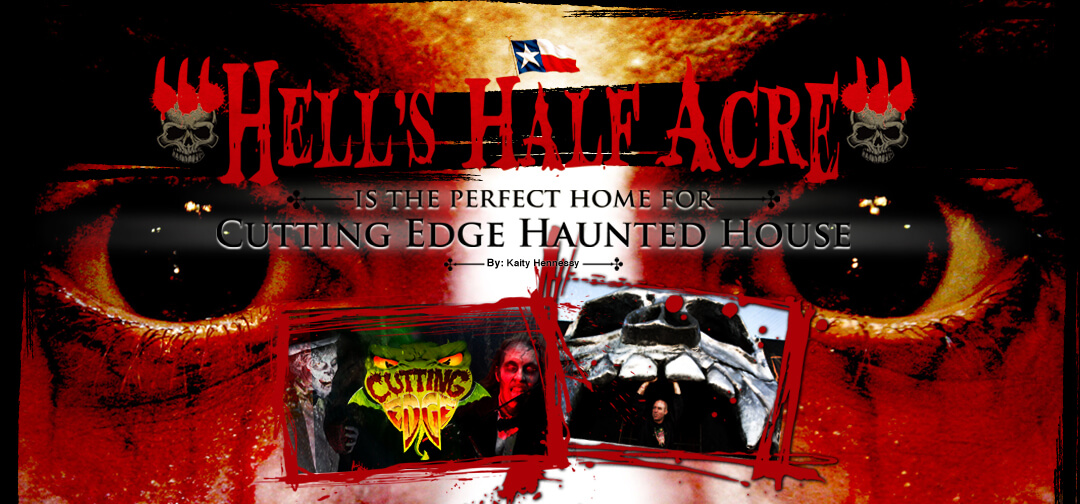 Oh the thankless toils of a Guinness World Record validator; counting pieces of Charlie's Angels memorabilia, measuring the height of the tallest living dog, the decibel level of the loudest purring domestic cat. Few assignments, however, can be as challenging, arduous and downright spine-tingling as negotiating the harrowing halls of the Cutting Edge Haunted House in order to measure the exact length of the World's Longest Walk Through Horror House.
---
When the converted Fort Worth meat-packing plant, now world renowned as Cutting Edge Haunted House, first earned the distinction in 2009, the path that wound through the 235,000 square foot meat packing plant measured a mere 2,261 linear feet. Yet, it took the average visitor the better part of an hour to travel the treacherous highway through Hell. The following year it was lengthened to 3,590 feet, whereupon Cutting Edge Haunted House once again dominated over a would-be rival in Ohio.
In 2011, the designation of World's Longest Walk Through Horror House went to an attraction in Yamaguchi, Japan, whose path was measured at 4,235 feet. Come this September, Cutting Edge vows to reclaim their title by more than doubling the length of their 2009 record-breaking passage through Cutting Edge Haunted House in Fort Worth, Texas.
Cutting Edge Co Creators are keeping the exact length under wraps, but the haunt staff feels certain they have this one in the bag.
The colossal haunted house is built in a meat packing plant located on the ruins of what was once the raunchiest, bawdiest, deadliest gun slinging neighborhoods on the east side of Fort Worth, Texas. Once known as "Hell's Half Acre," this is a former hideout for notorious outlaws the likes of Jesse James, Sam Bass gang and Butch Cassidy and the Sundance Kid.
The old brick factory building itself is rumored to be haunted by mysterious specters from bygone days, and haunt crew members give regular ghostly accounts of hearing sounds of a woman crying while working on the sets. There are even parts of the edifice where some fear to venture.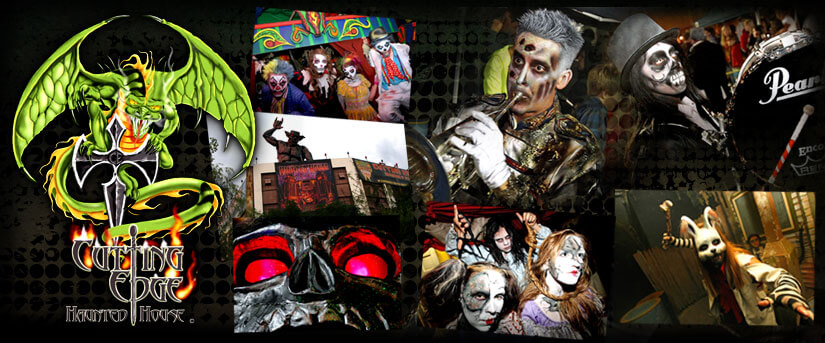 "I've seen something over there," says haunted house set designer Frances W. "You can laugh if you want, but there is something over there in that part of the haunt's building, and I will not go over there alone."
It could be the haunting spirit of a long dead prostitute named Sally, who was found murdered and nailed to the door of an outhouse behind the old meat packing plant in 1887. This is just one of the many unsolved homicides in the lawless ranch hands stop on the cattle trail to Kansas. Or perhaps the meat being cut up in the factory wasn't all bovine…
The haunted house's factory with an old two-story conveyor system has been preserved and put to use, now moving macabre carcasses through the building on actual meat hooks, while crazed clowns, bloodthirsty zombies and an apocalyptic industrial drum line terrorize all haunt goers who dare venture inside. Playing on scrap steel, miscellaneous car parts and all sorts of metal objects, the drummers give a perfectly executed, eerily disturbing performance worthy of a top notch competitive drum line, all the while sporting horrific costumes and frightening the wits out of everyone haunted house attendee who crosses their sinister paths.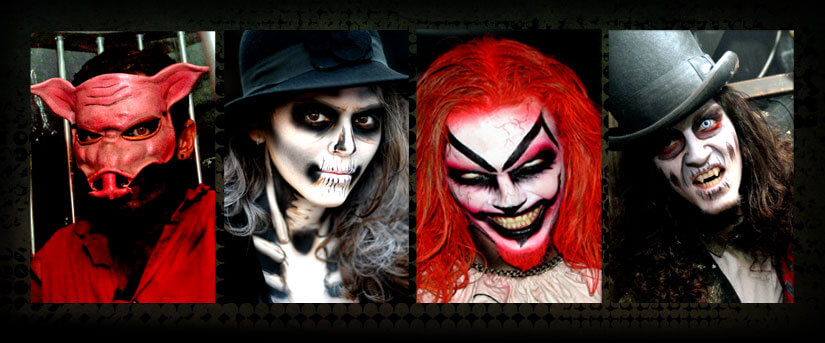 With a live haunt cast and crew of 150 able, terrifying bodies and countless animatronics, Cutting Edge Haunted House in Fort Worth keeps the horror action going from the moment patrons tentatively step through the gaping maw of the two story skull that serves as the haunt's entranceway until they make a final panicked dash through the 100-foot wall of solid foam that awaits those hardy enough to persevere. Haunt visitors who panic and depart early get the distinction of adding to the annual tally of those who "failed to finish," numbering over a thousand faint-hearted souls every year.
For the extra stout of heart and quick of wit, there is a 30,000 square foot human maze, through which competitors may race with the aid of a single chemical glow stick to light their way in the stifling velveteen darkness. Few if any will find this haunt's exit before the lights come up at the end of the allotted time.
---
In addition to their Guinness record book title in 2009 and 2010, last year Cutting Edge garnered the #2 spot in Haunted House Ratings' Top 13 Haunted Houses, as well as the #6 spot in Hauntworld Magazine's Best Haunted Houses in America, adding to a long list of haunt awards and commendations that Todd James and his haunted house crew have racked up over the last 23 years of haunting.
---
"It's very competitive, a lot like the movie industry," says James about the haunted house industry. Why are we so fascinated with fear? What drives otherwise ordinary people to pack up the family hearse and head out across the country every October to visit legendary monumental scare fests like Cutting Edge in order to be totally and completely terrified for a whole hour at a time? "I think people want to be kids," says James.

The horror festivities aren't just limited to the 45 days around the Halloween season either, at least not in Fort Worth, Texas. Cutting Edge Haunted House is open every Friday the 13th, which occurs one to three times each calendar year, plus Valentine's Day and St. Patrick's Day offer special engagements with special themed shows for those seeking a different and unusual way to celebrate, taking these holidays to a horrific new level.
And this September when the man from Guinness returns to Cutting Edge, with a nightmarish journey of delicious chills and thrills approaching a mile long...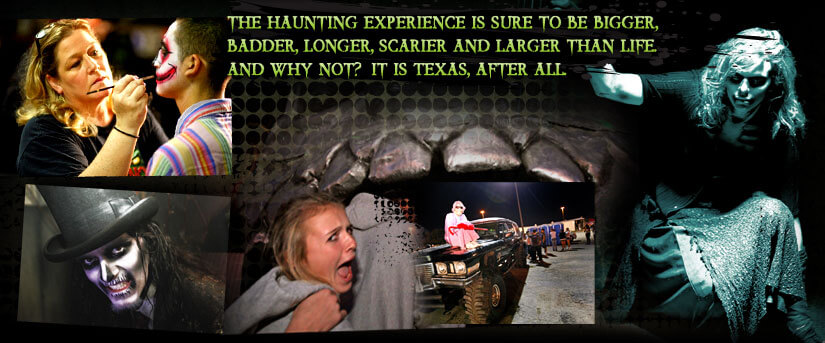 To Learn more about Cutting Edge visit their website at www.CuttingEdgeHauntedHouse.com

TO FIND MORE HAUNTED HOUSES IN TEXAS