Barton Hill Farms is a small farm and event venue between Bastrop & Austin. We are open Sept. 28 - Nov. 10 on Saturdays and Sundays. Description Set amidst 100-year old Cottonwoods overlooking the Colorado River, Barton Hill Farms is located between Bastrop and Austin, Texas. Come join us this fall as we hold our inaugural Fall Festival & Corn Maze honoring Texas heritage and classic autumn traditions by offering a fun, educational, and interactive source of outdoor entertainment. The Fall Festival & Corn Maze holds something for everyone—a themed corn maze, outdoor activities, 40 live music bands, food, local beer by Bastrop Brewhouse, drinks and more. GET LOST IN BASTROP at the Fall Festival and Corn Maze at Barton Hill Farms!
1115 Farm-to-Market 969, Bastrop, Texas, 78602
This attraction is miles from your location. MAP IT NOW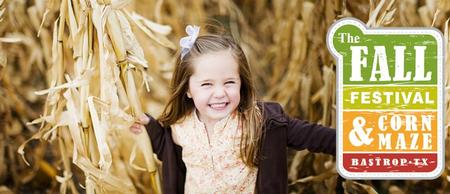 Get lost in our enormous corn maze! Our dynamic corn maze is redesigned each year so you'll enjoy a new challenge this fall. And be sure to visit us on Saturday evenings when you can enjoy our Flashlight Maze from dusk until 10 p.m. Come and select one of our Texas-grown pumpkins to paint, carve or to decorate your home! The Fall Festival & Corn Maze at Barton Hill Farms offers families a large pumpkin patch with a variety of all shapes and sizes, sourced from a small farm in the Texas panhandle. Paint a pumpkin right at Barton Hill Farms or take a few home to carve. People are raving about our pumpkin patch! Big Jack O'Lanterns: $10 Pie pumpkins: $4 Pumpkin painting: Free There are so many amazing foods to enjoy when you visit Barton Hill Farms. The Fall Festival & Corn Maze offers burgers, chicken tenders, roaster corn on the cob, turkey legs, Kettle Corn and more. Kick back with a cold brew or glass of wine and enjoy the scenic landscape and picturesque backdrop of the Colorado River. We have a delicious assortment of food and drinks. Come enjoy live music, a flashlight maze, and more at The Fall Festival & Corn Maze at Barton Hill Farms! We're developing exciting new events for the Festival, including the after dark – flashlight maze and a music series. Get the latest updates by liking us on Facebook.
Sign up for our newsletter for the latest Fall Festival and event information, and receive special offers and discounts. Sign up now by visiting our website at http://bartonhillfarms.com/ - Admission Price: Admission Hours Ages 0-2: Free Sept 28 to Nov 10 Ages 3-10: $7 Saturdays from 10 a.m. to 10 p.m. Ages 11+: $10 Sundays from 10 a.m. to 5 p.m. From Austin Take Hwy 71 East for about 13 miles (you will go beyond Toll Road 130) Turn left at FM 1209 (there will be a stop light) Drive 3.7 miles to FM 969 Turn left at the fork in the road onto FM 969 Drive a half mile and cross the Colorado River The entrance is on the right after the river From Bastrop Take Hwy 71 West Turn right onto FM 969 Drive 5.2 miles and cross the Colorado River The entrance is on the right after the river
1115 Farm-to-Market 969, Bastrop, Texas, 78602