Come join us for some down home farmin' fun. We have lots to do. Come & "Get Lost " in our 8 acre maze of fun twists, turns & dead-ends or hang out in our courtyard with food, playgrounds, goats, pumpkin cannons, and more! And don't forget to grab a bag of our delicious kettle corn. We can't wait to see you. No outside food, Pretty Please!
12,000 W 5,000 Bluebell Road, Bluebell, Utah, 84007
This attraction is miles from your location. MAP IT NOW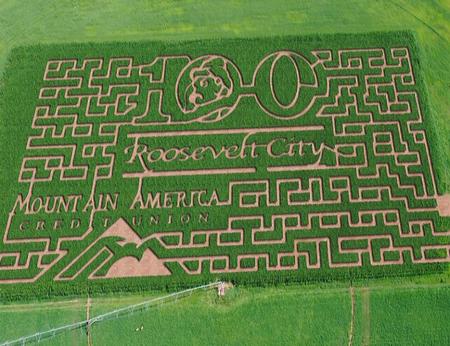 Besides walking through a corn field... what else is there to do? Wagon-loads of stuff! Seriously... WAGON-LOADS!!! Be sure to try out our newest attraction: "FRIENDLY FIRE." Corn Box Pumpkin Launcher Corn Cannon Hay Rides PVC Slides Pumpkin Patch Goat Walk Cow Train and Campfires Creep Farm! Though there is currently no official phobia of corn fields after a night through the Creep Farm... you'll be the living embodiment of it!!! Come meet the whole Creep Family! The Creep Farm begins October 10 at dark and will be open Thursday, Friday, and Saturday nights till the end of October! No group reservations will be allowed during the haunt. The lines can get long especially Saturday nights. Try a Thursday, otherwise you might be spending more time with Clem out in the court-yard than you'd like!
Field Trips begin September 21 and will continue through October 31 Field trips will be hosted Tuesdays-Fridays of each week. Contact Kim at 435-454-3369 or 435-724-3741 or at UtahElk.hotmail.com to schedule a day and time. This year we will be learning about pollinators. Come have an enjoyable day as you learn about the farm. We will be going to the pumpkin patch and each child will have the opportunity to pick their own small pumpkin. They will also get to go through the maze as well as enjoy many of the courtyard activities!
We admit, we are a little off the beaten path but in all honesty that may be the best part! Take a drive to a real farm, with real history in one of the most beautiful places in the Uintah Basin! If the directions below do not help you, feel free to give us a call! The Maze is located 3/4 of a mile North of the Bluebell Store. Watch for the signs in Roosevelt Go to www.mapquest.com and simply type Bluebell Utah into the directions space. Think of it as old-school GPS! If you have a smart phone, use a navigation app and simply type Bluebell Utah. The lady with the beautiful voice will get you here! Ever heard of Google Maps? If that's your thing simply type in Bluebell Utah!
12,000 W 5,000 Bluebell Road, Bluebell, Utah, 84007