Welcome to Dewberry Farm!! 8-acres of pumpkins to pick, 8 acres of corn maze to explore, 30+ attractions, 10 yummy eateries. Fall family entertainment at its very best, just a short country drive from Houston! 30+ attractions. 10 yummy eateries. Acres and acres of fun!
7705 FM 362, Brookshire, Texas, 77423
This attraction is miles from your location. MAP IT NOW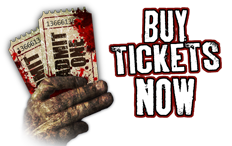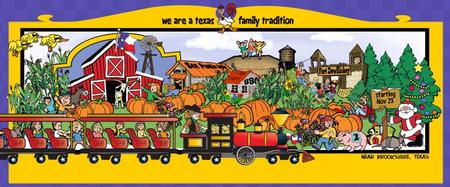 8 acres of Corn Maze to explore · 8 acres of Pumpkins to pick Stroll through 500+ lighted pumpkins in Punkin Hollar Ride the mile-long DewVille Express Railroad to Christmas Tree Forest Climb 26-feet up to the top of Sliiide Mountain Rascals RoundUp Head south towards the parapets of Ft. DewHickey to find an area just screaming with fun! Shoot the Corn Cannon or Bottle Blaster! Jump on the Jumping Pillows. There's a Farmer Flinger, Roller Slides, ZipLines, Hay Mountain … and the Black Momba! SpringTown It's at the DewVille Station, just east of Lake HorseShoo. Ride a pony, Climb in a Spider Web, Watch the Pig Races, play on our wooden Armadillo ChooChoo, and enjoy the SpringyHoppers. Little Farmersville It's a special playground for little folks — with swings, playset, giant sandbox, trike track, and tractor tires to climb. Dewberry Barnyard Our goats call Goatel 6 their home, and the barn houses bunnies, a calf, baby chickens, sheep pigs, ponies and our flock of guineas. Visit Bunnyville, the singing chickens at the Cackle Palace, and try your hand at Rubber Duck Races. There's a windmill and pond with real ducks and geese, too! Lake HorseShoo and [the long awaited] WindMill Park This little blue lake encircles a 30-horse carousel that's new to Dewberry Farm this year! Yep, an old-fashioned merry-go-round, complete with music and mustangs. Enjoy the arbors — sit a spell and listen to our historic windmills pumping. But … we're not done yet! More activities and attractions: The Black Hole, a 20-car Cow Train, tractor-pulled Wagon Rides, Gemstone Mining … and one acre of fresh Flower Pickin'.
Zeke's BBQ This BBQ joint is named after ole Zeke, who heads up our Bunkhouse Gang. Hot roasted ears of sweet corn and sausage-on-a-stick are served at Zeke's. Hamburgers will be cooked and prepared to your particular specifications. Mattie's Kitchen Located inside the pavilion, Mattie's is a good place to come inside for a while and take a load off yer feet. BBQ sandwiches and plates, stuffed baked potatoes, chili, hot dogs, Frito pies (mmmm good!), pies and cakes, chips, candy, soft drinks, tea and water are available. Hot chocolate and coffee will warm you up on the colder days. Our prices are very reasonable. Guests are welcome to dine in our large pavilion, under the tents or at the picnic tables scattered around the farm. The Dewberry Farm Sweet Shoppe Folks are still talking about our fresh country treats! Leave your will power at home and indulge in 16 delicious fudge flavors, fresh baked cookies and pies, and old-fashioned candies. Kettle Corn and Snow Cone Heaven Buy the "snow" and add your own flavor from the 25 flavors. Kettle Corn is available in two sizes. Be sure to eat lots while at the farm and get some to take some home also. Legs & Fries The turkey legs are back by popular demand. Sweet potato fries, curly fries, "Funnel Fries", chicken strips, and corn dogs are also favorites at Legs & Fries. Annabelle's Auntie Annabelle DewLittle will be cooking up fried Oreos (huh?!), chicken-on-a-stick, and fresh lemonade. Just the kind of stuff to make yer fingers sticky and make you wanna come back for more! Old-Fashioned Soda Wagon This "Yankee" covered wagon has completed the long journey from Pennsylvania to Texas. The wagon crew will be camping in Lake HorseShoo Park and serving six old-fashioned soda flavors, like Root Beer, Sarsparilla, and Crème Soda. Pizza The all-time favorite kids' meal — pizza! It's a huge hit. Piggy's Pizza Shack sells hand-made pizza pies or pizza by the slice right out of the oven. Pizza is a favorite of birthday parties at the farm. - From Houston: West on I-10 4 miles past Katy to Pederson Rd. [Exit 737] Right on Pederson for 1/4 mile to Hwy 90. Left on Hwy 90 for 1/2 mile to Hwy 2855. Right on Hwy 2855 for 5 miles to Hwy 529. Left on Hwy 529 for 4 miles to Hwy 362. Right at the stop sign and go north 1/2 mile to Dewberry Farm on the left side of Hwy 362. From Brookshire: Take Exit No. 732 Right at light and go north on FM 359 for 1/2 mile to Hwy 90 Left and go west about 1/2 mile to the 2nd light, turn right on FM 359/FM 362 and go 3 blocks north on FM 359 and (here's the tricky part) FM 362 goes to the right at the "Y" and FM 359 goes to the left. Take FM 362 to the right! Go north 7 miles on FM 362 to Dewberry Farm on the left side of the road. From Hwy 290, exit at Hwy 362 at Waller. Go south on Hwy 362 for 12 miles to the Farm. - See more at: http://dewberryfarm.com/directions/#sthash.PfBb091C.dpuf
7705 FM 362, Brookshire, Texas, 77423