The local Corn Maize of Lubbock and Shallowater, Texas. Great owners and great fun to be had at the maize.
6323 Farm 1294, Lubbock, Texas, 79415
This attraction is miles from your location. MAP IT NOW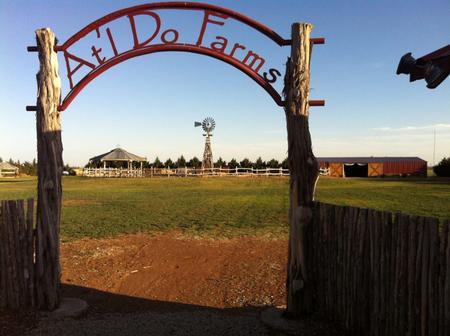 Farming roots run deep in both of our families, so it was natural that we would carry on this tradition. We married in 1987 and began farming cotton, grain, sorghum, and wheat on land that had been in Patti's family for generations. Like a lot of businesses, farming is cyclical and it was during one of the low periods that we started looking for ways to diversify and stumbled into an aspect of agriculture that we had not considered before: Agritourism. The idea that we had something to offer other than our crops had not crossed our minds. To experience what our farm had to offer was new to us, but it was also exciting to think that we could also share our love for what we do while making new friends. As we begin our 13th season, we would like to say thank you to everyone who has visited our farm and continued to support us. Also, we would like to thank our parents for their support, as well as for passing on to the next generation a love for the land, a heritage rich in family values, hard work, and good stewardship. Working together as a family, our children Eric, Emilee, and Allison have always been a part of this growing business. May your time with us be a unique experience while creating memories with family and friends. PUMPKINS! Take a hayride out to the patch, stroll through the vines and pick your perfect pumpkin. Many varieties to choose from. Prices range from $1 and up. Pumpkin HallowHAYRIDE TO PUMPKIN HOLLOW - $5 September 27 - November 23 FRIDAY SATURDAY & SUNDAY EVENINGS As soon as the sun sets the hayride begins! Our son, Eric, a graduate art major from Texas Tech has carved over 150 pumpkins with designs from Disney characters, The Wizard of Oz, famous people, and American theme and much more! Come see the illuminated pumpkins by the harvest night sky.
At'l Do Farms is now available for reservations for Weddings, Corporate Events, and private parties. It is the perfect rural rustic setting for a casual event. COST FOR WEDDING & RECEPTION - $1500 Reserves the day and the day before PRIVATE PARTIES & CORPORATE EVENTS - $500 Reserves the day ALCOHOL USE - $250 Must supply a licensed bar tender. No guest may bring alcohol. $250 deposit required 3 month prior to event- applies towards the cost and remaining balance due on the day of the event. Our grounds close at 10pm Clean up until 10:30 Barn Capacity - 175 Includes use of all Tables and Chairs Sound System and Portable Sound System available through Apple TV Heating and Air Conditioning Brides Room Refrigerator / Storage room You are welcome to provide your own decorations or Decorating available for $250 We also have supplies you can rent for $25 per group You are welcome to have catering or we can cater as well Brisket Meal - $12 Taco Bar -$8 Other Menus available upon request Call for reservations and to discuss any questions or details. We are here to help make your event special, unique and memorable. - DIRECTIONS GPS address: 6323 FM 1294 Lubbock 79415 (you must enter the zip!) The At'l Do Farms Corn MAiZE is located 3/4 of a mile west of Frankford Ave (FM 2528) on FM 1294. From 4th Street and Frankford: Drive 7 miles north on Frankford (FM 2528) to FM 1294. Turn left on FM 1294 and go 3/4 of a mile. From I-27: Take the Shallowater exit. Drive 6.5 miles west on FM 1294. From Shallowater: Drive 2 miles east on FM 1294. THE MAIZE - $8 (4 & UNDER FREE) NON - MAIZE ADMISSION - $4 (4 & UNDER FREE) HAYRIDE TO PUMPKIN HOLLOW - $5 (SEE DETAILS BELOW) MAIZE & PUMPKIN HOLLOW COMBO - $10 We accept cash, checks, debit, Visa, Mastercard and Discover WE DO ACCEPT CREDIT CARDS HOWEVER DUE TO OUR LOCATION OUR SERVICE IS POOR AND THEREFORE EXTREMELY SLOW. PLEASE BRING CASH FOR QUICKER SERVICE. ATTRACTIONS - TOKENS $1 EACH Haybale maze & barnyard - free HAYRIDE TO PICK PUMPKINS - 1 TOKEN - STOPS AT DARK COW TRAIN - 1 TOKEN CORN CANNON - 1 TOKEN/2 SHOTS HORSE RIDES - 3 TOKENS (SATURDAY & SUNDAY ONLY) CAMPFIRES - $30 (CALL FOR RESERVATION - 763-5594) SUMPIN' TO EAT! Tuesday - Thursday - The concession stand is stocked with goodies and refreshing drinks and our famous corn suckers. Hot chocolate served when it gets cold. The Hungry CrowFriday -Sunday - The Hungry Crow Grill will be open and serving up Maze favorites Brisket Wrap - $5 Chicken Fajita Wrap - $5 Sausage Wrap - $4 Chili with Cornbread - $4 Frito Pie - $4 Apple Blossom - $4 Pumpkin Bread - $3 Caramel Corn - $3 Roasted Corn - $3
6323 Farm 1294, Lubbock, Texas, 79415