Juicy You-pick-it blackberries. Summer produce will be ready very soon! Berry Pickers must arrive 30 minutes before closing. P-6 Farms is an actual working farm in Montgomery, Texas, specializing in cattle, hay, farm fresh produce, and our annual fall festival. Come "get lost" in 30 acres of Texas Sized Family Fun!
9963 Pooles Road, Montgomery, Texas, 77356
This attraction is miles from your location. MAP IT NOW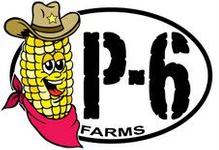 Ducks Races - Weighted ducks may be purchased at the Country Store Water Cannon - Shooting the Water Cannon is always a hit, especially if you are able to hit the target… Jumping Pillow - This will have you coming back for more as you experience the thrill of an in-ground "trampoline" Hayride - Top off your visit to P-6 Farms and the Lone Star Maize with a tractor drawn hayride! Spider Web - Come hang out in our life size human "spider web"… Spiders not welcome, just laughing children! Tube Slide - A unique version of the beloved playground slide, is our own "culvert slide"… Corn Maze - 2 mazes in 1, you pick. The small maze, the large maze, or both! Cow Train - An adventurous ride on our beloved "cows".
9963 Pooles Road, Montgomery, Texas, 77356