Trotterville Horror Haunted Attraction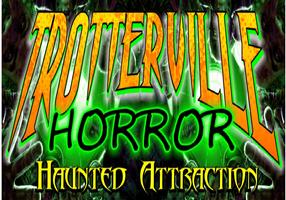 ABOUT "Trotterville Horror Haunted Attraction"
New this year is ANYTHING GOES Friday the 13th 8pm price is $13.00. In this event all actors will be allowed to touch you. This will be up close and personal! Trotterville Horror Haunted Attraction is known for our real ghost stories that linger within our trail. You may not know if it is a spirit you have encountered or one of our 70 live actors. So BEWARE! Our unguided tour will make you SCREAM as you take a horror-filled journey through a mile and a half of the darkest woods. You will experience our bloodcurdling scenes, abandoned barns, and nothing but full on TERROR! If you are looking for the fright of your life, then you do not want to miss out on what we have in store for you this 2015 season.
6187 Poole Road, Archdale, North Carolina, 27263
336-861-4355

Haunted Houses

Suitable for all guests and families (HALLOWEEN FUN)
Join our email list to receive discount offers and updates.
Ticket And Price Information
Harvest Night-Lights Out Event November 1st and 2nd Gates open at 8:00pm Adult Admission: $20.00 per person Children 12 and under: $10.00 per person Has it ever been your biggest fear to walk through the woods in the pitch dark? Well here is your opportunity. These two nights you will walk through the trail with NO lights on! NO lights, NO flashlights! Just you and your friends wondering through the woods not knowing what you will encounter along the way. So be sure not to take a wrong turn cause you might just find yourself where you do not belong!

September 26, 2014 - November 2, 2014 - Thursdays and Sundays: 8pm-10pm / Fridays and Saturdays: 8pm-Until / Halloween Eve 8pm-10pm Halloween Night 8pm-Until
Trotterville Horror Haunted Attraction VIDEOS
Trotterville Horror Haunted Attraction PHOTOS
6187 Poole Road, Archdale, North Carolina, 27263