Hill's Horror Haunted House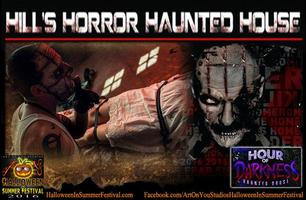 ABOUT "Hill's Horror Haunted House"
A man by the name of David Roberts used to work for the state in the town's morgue. He worked there for 14 years and was one of the best Coroners in Las Vegas. One day David lost his job over an accidental cremation vs. a regular burial. That same day he came home from his firing and noticed that his wife of 8 years and his 3 children were gone without so much as a note left behind. This sent him over the edge and made him completely crazy. It is said that he goes by the name Coroner now and is suspected to be suffering from severe Anti-Social Personality Disorder commonly known as a Sociopath. Rumors have circulated recently that he collects bodies to continue his "work" somewhere in Northern Utah. He once was caught telling a co-worker "every town needs a morgue and a coroner to fetch the bodies." His license was revoked in 2004……
1899 N 3675 W , West Point , Utah, 84015
2085981985

Haunted Houses

Suitable for all guests and families (HALLOWEEN FUN)
Join our email list to receive discount offers and updates.
Hill's Horror Haunted House VIDEOS
Hill's Horror Haunted House PHOTOS
1899 N 3675 W , West Point , Utah, 84015