Ghosts, spirits and paranormal activity, oh my! Have you ever wanted to investigate a haunted location? Do you enjoy history and learning about hauntings that took place long ago? Get Committed to a 3 Hr Psych Hold and see why Rolling Hills Asylum in East Bethany, NY is arguably THE MOST haunted asylum in the United States! Rolling Hills Asylum has been featured on TravelChannel, SyFy Channel, FX's American Horror Story promos and in films such as The Booth Brothers para-documentary "The Exorcist File/The Haunted Boy" (available on Redbox). The asylum opened in 1827 as a Poor House and over time, included an Infirmary. Housing everyone from widows and orphans, mentally and physically disabled, even criminals. With over 1,700 deaths its easy to see why paranormal activity is something Rolling Hills Asylum does not lack. The facility is known for its class "A" EVP's, disembodied voices such as the infamous "screaming lady", doors slamming, footsteps, shadow people, even full body apparitions!
11001 Bethany Center Road , East Bethany , New York, 14525
This attraction is miles from your location. MAP IT NOW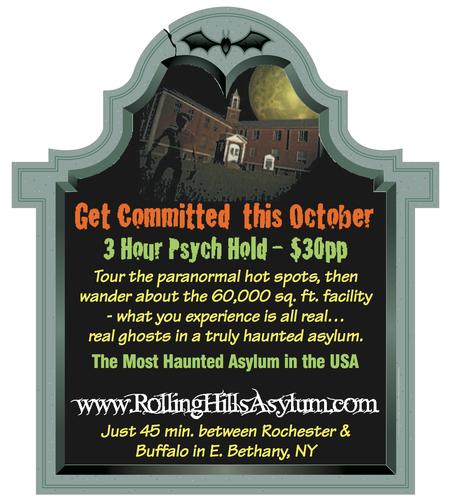 Rolling Hills Asylum offers a variety of hunts. Please visit www.rollinghillsasylum.com for more information.
11001 Bethany Center Road , East Bethany , New York, 14525