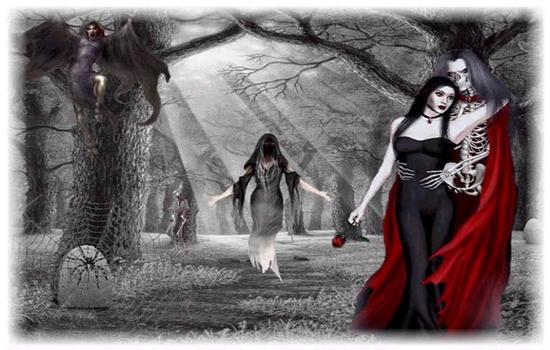 Campfear has been traveling the world and bringing back monsters from across the globe in an all new what are you afraid of.. from local legends to fears from abroad all fears from now and the past are coming together in one place. We thought he was gone. Run away with the demented clowns, freaks and the other monstrous "friends" he had made here. What we never expected was that he would be back. But he came home and brought new nightmares with him; creatures from legends of old and new, from every deep dark corner and pit of the world. He wanted to come home you see, home to his hiding places in the trees. Home to the woods with their creeping snakes and spiders, home to the remains of those he had left behind. What he brought back with him he found in an ancient book of spells and stories, with legends and warnings of the dead and not quite dead inside. He released Monsters that should never be spoken of, Creatures that should never be seen and Places where horror likes to reside. Now they are all here at Camp Fear and they are waiting for you to visit Daniel has come home and what he has brought with him well… we hope there will be those who are brave enough to face these new frights and take a trip of horror around the world with us What are you afraid of?
601 Princess Lane, Hiddenite, North Carolina, 28636
(828) 632-3815

Haunted Houses

Recommended for Guests 16 and over (VERY SCARY)
Haunted Forest
Haunted Trails
3D Haunted House
Escape Rooms
Join our email list to receive discount offers and updates.
Ticket And Price Information
Adults $22 / Food Drive (select dates) $11 with donation of 2 cans of food per person Valid October 2nd and October 3rd Only ! If purchasing tickets online use discount code: cans20

Every Friday and Saturday in October - Dark to 11pm Ticket Booth opens at dark
601 Princess Lane, Hiddenite, North Carolina, 28636
Enter at your own risk! We are an interactive haunted attraction. "You will experience intense audio, lighting, extreme low visibility, strobe lights, fog, damp or wet conditions, moving floors, special effects, sudden actions, and an overall physically demanding environment. This attraction is not recommended for those with seizure disorders, asthma, claustrophobia or similar health concerns NO weapons, smoking, flashlights or drinks on the trail. There is to be no touching of actors, other customers, or props on the trail . No video or flash photography may be taken inside the attraction. You will not be admitted and will be asked to leave the property if any of these rules are not followed. THERE ARE NO REFUNDS! ENTER AT YOUR OWN RISK! This attraction reserves the right to refuse admission to anyone. The ticket holder understands that there are inherent risks when participating in an event such as Camp Fear and assumes all risks and dangers associated therein. The ticket holder agrees to release Camp Fears owners, volunteers and property landlord from any liability, harm, injury or death, cost or expense whatsoever that may arise directly or indirectly as a result of participation in Camp Fear. As ticket holder you voluntarily enter at your own risk and have read the Warnings and Rules & Regulations.
Covid Updates
Our staff is staying home if they aren't feeling well, and we ask that you do the same. If you're experiencing any of the following symptoms (cdc symptom reference) please seek medical advice.
Most staff has completed COVID-19 Certification training courses, to ensure thorough knowledge of sanitization and cleaning procedures, as well as risk minimization. Staff members have received certificates of completion via: Count On Me NC, Barbicide, and more.
All guests and staff will be required to adhere to local guidelines regarding the use of facial coverings. Luckily, Halloween is all about masks!
We know it's dark out, but please read all signage and watch your feet. There will be plenty of informational and directional signage. We know it's everywhere, but please be mindful for the wellbeing for yourselves and others.
Ground markings, along with the help of our event staff, will direct you on where or where not to stand.
Social distancing will be executed where possible, with small exceptions of needing help from event staff or things of that nature. Otherwise, stay a minimum of 6' away from all other "Social Bubbles". We're just as scary from a distance!
Buying your tickets online in advance ensures that you have your tickets before that evening sells out.
Forgot your hand sanitizer? No problem, we've got you covered with plenty of sanitizer stations.
Please thank our cleaning team. Extra effort will be placed on sanitation this year, so when you see them, let them know you appreciate what they're doing to keep everyone safe.
Please follow the instructions of our team members at all times.
HOW WILL THE EXPERIENCE CHANGE?
Attendance will be limited each night. Buy your tickets online in advance so you don't miss it!
Private groups only. You will not be combined with anyone outside of the group you arrive with.
ALL of our admission tickets will be reservation based (time slotted) this year and, due to limiting capacity, public wait times will be greatly reduced.
All queues will be physically distanced; please pay attention to all markings regarding where to stand or not stand.
We will be emphasizing maximum spacing between groups. Even with all of these precautions, we may still need your help! If you can see the group in front of you, slow down; if you can see the group behind you, speed up! There may be staff inside monitoring this, please pay attention to their directions.
Anything hanging that you would need to push or squeeze through has been removed from the attractions.
The attraction is deeply sanitized at the beginning of every evening. As we've said repeatedly, we have always placed the utmost importance on your safety.
The show may seem a little different this year, but in a good way. More time and more space (both from other groups and actors) will allow us to try some interesting storyline tactics that we normally wouldn't be able to try. We are truly excited about this year's event and we have no doubt our fans will love it!