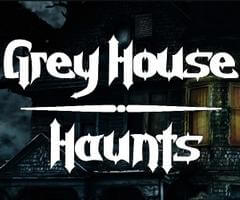 ABOUT "Grey House Haunts"
Grey House Haunts It's wicked fun If you love Halloween, haunted houses and things that go bump in the night, you will love Grey House Haunts, an actor based Halloween haunted house, located in south central Nebraska. With 14 years of haunt experience, our team will give you the scares you are dying for. Hours 7:30 p.m. to 10:30 p.m. Tickets are $15, on sale at 7:15 pm 2021 dates: October 15, 16, 22, 23, 29, 30, and 31st Check out our website at greyhousehaunts.com Special Event: Halloween Night = Lights Out Night! (Each group gets 2 glow sticks) 203 High St. Holdrege NE Recommended for 10 years and olders.
203 High Street, Holdrege, Nebraska, 68949
3089910651

Haunted Houses

Recommended for Guests 12 and over (SCARY)
Join our email list to receive discount offers and updates.
203 High Street, Holdrege, Nebraska, 68949
http://www.hauntworld.com/includes/images/general/hauntworld_haunt_profile_warning.jpg