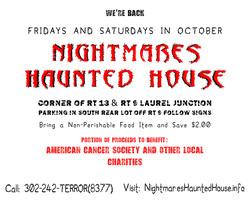 ABOUT "Nightmares Haunted House"
We are super excited to be, once again, opening our gates for the 2015 at Laurel Junction corner of Rt 9 and Rt 13 (discount coupons available in restaurant), Entrance off Rt 9 Gate Opens @ 7:30 PM on October 2nd for another fright filled season of haunting and screaming and we wouldn't have it any other way! We'll be open at 7:30 PM every Friday and Saturday in October. We will be waiting to make you Scream.
10912 County Seat Highway, Laurel, Delaware, 19956
302-875-3523

Haunted Houses

Suitable for all guests and families (HALLOWEEN FUN)
Join our email list to receive discount offers and updates.
Ticket And Price Information
Are you a member of Facebook? We are running special offers for our Facebook Friends so become a fan and remain "in the know" all year long! A donation of $13 is requested to help support Our Causes but bring in a non-perishable food item and receive a $2 discount! (limit 1 discount per can per person) The Haunted House is NOT recommended for children under the age of 7. - $13.00 SAVE $2.00 with Non-perishable food item NO REFUNDS...EVER

VIEW CALENDAR
Weekends In October 2015 beginning October 2nd and 3rd and continuing October 9, 10, 16, 17, 23, 24, 30 & 31 - 7:30-11:00 (?)
10912 County Seat Highway, Laurel, Delaware, 19956
Not recommended for Children Under 10 - NO REFUNDS If you pay your money and we scare you honey don't ask for your money cause we scared you honey. NO REFUNDS