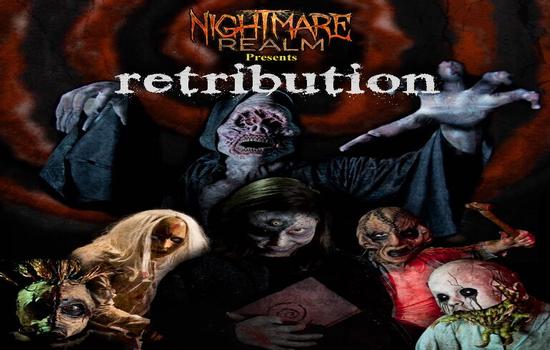 Nightmare Realm was born out of a passion for the creepy and a love of the Halloween season. In it's humble beginning Nightmare Realm was a home run haunt that used hand made props and brought in high school students to act to an audience for one night of the year. As time went on, the celebration became so popular the township asked the owners to move to a safer location. With the desire to continue putting on Halloween events, Nightmare Realm found its new location, built the best show possible and brought in the best actors they could find. Opening for the first time this October, Nightmare Realm plans on taking its guests through an immersive and terrifying story set in Cypress Hollow. Trista heard the voices all her life. The people of Cypress Hollow thought she was different... they didn't know how correct they were. When an accident occurs and a portal begins to open, the village of Cypress Hollow and all of its inhabitants will truly know the meaning of Retribution. Nightmare Realm presents Retribution is an experience that begins in the parking lot at Paw Paw High School, where our creatures will be waiting for your arrival behind every shadow. Next we take you on the guided bus ride, where our demons will be transporting you from your world to ours, being pulled into the insanity by the portal. Only after that will you arrive at Nightmare Realm, which is a set path, walk-through haunted attraction that takes about 35-45 minutes to complete.
Red Arrow Hwy, Mattawan, Michigan, 49071
248-259-0904

Haunted Houses

Recommended for Guests 12 and over (SCARY)
Haunted House
Gift Stores
Join our email list to receive discount offers and updates.
Ticket And Price Information
$20 for general admission, and $40 for VIP which gets you fast passes for the bus ride and fast passes for the Retribution attraction itself. You will also get a slice of pizza or any food of equal or lesser value, 10% off any merchandise, and a collectable lanyard. Special ticket pricing for bulk orders (50 or more tickets) available.

Dates and times open: October 1, 2, 8, 9, 15, 16, 22, 23, 28, 29, 30, 31 from 7pm-11pm (if you are in line by 11pm you will make it through the haunt)
Red Arrow Hwy, Mattawan, Michigan, 49071