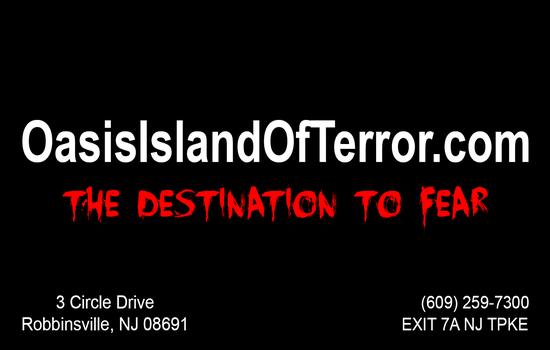 ABOUT "Oasis Island of Terror"
The Woods Have Eyes is rated #1 as the longest and most realistic haunted trail in New Jersey. The Woods Have Eyes trail is over a mile long, and will lead you on a heart racing journey through terrifying sights and sounds that will leave you trembling! Our haunt trail offers a unique haunt experience designed to heighten your inner fears and senses. It's time to face your fears, face your phobias,and experience the ultimate one-of-a-kind haunted trail that is sure to shock you, startle you,and even make you cry!
3 Circle Drive, Robbinsville Township, New Jersey, 08691
609-259-7300

Haunted Houses

Recommended for Guests 12 and over (SCARY)
Haunted House
Haunted Forest
Haunted Trails
Escape Rooms
Join our email list to receive discount offers and updates.
October 4,5,11,12,13,18, 19, 25,26 November 1,2
3 Circle Drive, Robbinsville Township, New Jersey, 08691