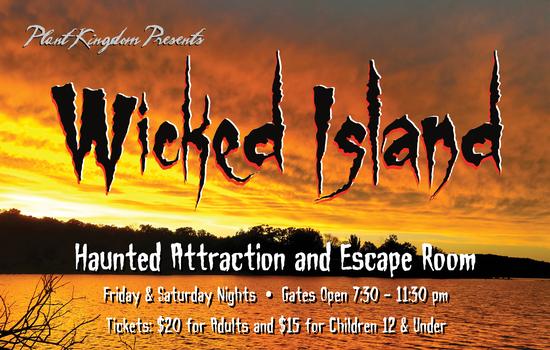 Come on down to OJ Watson Park to enjoy some great scares! Plant Kingdom presents Wicked Island at OJ Watson Park every Friday and Saturday night in October and Halloween night. Don't miss out on this great haunted attraction full of all of your worst nightmares! Wicked Island also offers a Haunted Escape room. We hope to haunt you this Halloween season!
3022 South McLean Boulevard, Wichita, Kansas, 67217
316-684-5991

Haunted Houses

Suitable for All Guests and Families (MILD SCARES AND HALLOWEEN FUN)
Haunted House
Haunted Forest
Haunted Trails
Escape Rooms
Join our email list to receive discount offers and updates.
Ticket And Price Information
Tickets are $20 for adults and $15 for kiddos 12 and under. (Children 12 and under must be accompanied by an adult)

3022 South McLean Boulevard, Wichita, Kansas, 67217