Haunted Attractions Are Getting A lot Wrong - Time to Get back on Track
Attention to haunted attraction owners STOP PAYING ATTENTION to what total panicking idiots are saying on facebook, settle down, and THINK. There is a lot on the line for everyone across the haunted attraction industry. Right now we're looking at 80% of all haunted attractions being CLOSED in 2020 but remember most haunts are CHARITY based. Charity haunts are just closing and finding new ways to raise funds. Many really big well known haunts with national brands called it quits months ago including the biggest being Universal Studios. We're a divided country and a divided industry honestly but never fear Hauntworld is here to set the record straight.

Lets start with FACEBOOK - a while back I removed myself from virtually all facebook haunt groups but why? Look lets face reality here haunted house groups on facebook have been totally taken over by actors, make up artists, enthusiast, home haunters and the list goes on. Remember as a haunted house owner or operator you're in the major league minority your voices are drowned out by many people who do this for hobby. Many professional haunted attractions in situations like this are looked at as the villains because you do this for money. I've personally been blasted for producing a video to help haunted attraction owners make more money. Haunted Houses are facing a very uncertain future and covid is just the wake up call honestly. I've been telling haunted house owners for the past few years the haunted house industry might not survive the next 5 to 10 years. There are many reasons starting with amusement parks inspired by Universal to ramp up Halloween promotions and they have many advantages over a small local haunt. Furthermore most haunted house owners are not really great business people, they make decisions many times based on passion. Haunts also sometimes falsely believe there is only one company who provides a service based on coming to the Transworld show. How do I know that most haunters don't do their homework let me give you some examples. I talk to many haunted house owners about ticketing and they get conned time and time again by ticketing companies with sales pitches of how their ticketing service if free. If you allow these ticketing companies to charge YOUR customers services fees that isn't FREE that is money out of your pocket. Now we see tons of haunts get duped by digital marketing companies taking 30% or more of your marketing budget for a service you could do yourself or hire someone local to help with for 1/20 the cost. As for online discussions on facebook groups many slam haunt owners for doing these attractions for profit. What?





Let me be honest, I enjoy creating new scenes for a haunted house but operating a haunted house is by far the worst experience imaginable. I honestly think I'd rather get my teeth pulled than operate a haunted house because if you actually KNOW what you're doing you feel the stress. Operating a haunted house requires you to put your guests safety FIRST while at the same time do everything within your power to produce an entertaining product. Sadly way to many haunt owners maybe even the majority don't understand safety issues, crowd control, or even basics of how to operate a profitable business. Many people who get into the haunt industry are get rich quick schemers without an ounce of knowledge of how to keep their actors safe or their guests. Take these fly by night drive thru haunted houses, you know these are probably being created on the fly as a get rich quick scheme. Have they considered their actors safety getting hit by a bad or drunk driver? Did anyone stop to think the mass majority of every person who's died visiting a haunted attraction was an ACTOR getting run over on hayrides by their own tractor driver? Now you're telling me you're going to allow guests to drive thru some might not even have a drivers license, some might be drunk, and some might get scared, wreck their car and maybe into your staff. Not to mention you're going to throw this together at the last minute yeah sounds like a great idea! NOT! These events will get TRASHED on DAY ONE when the guests facebook live the entire thing. Get rich haunts never work!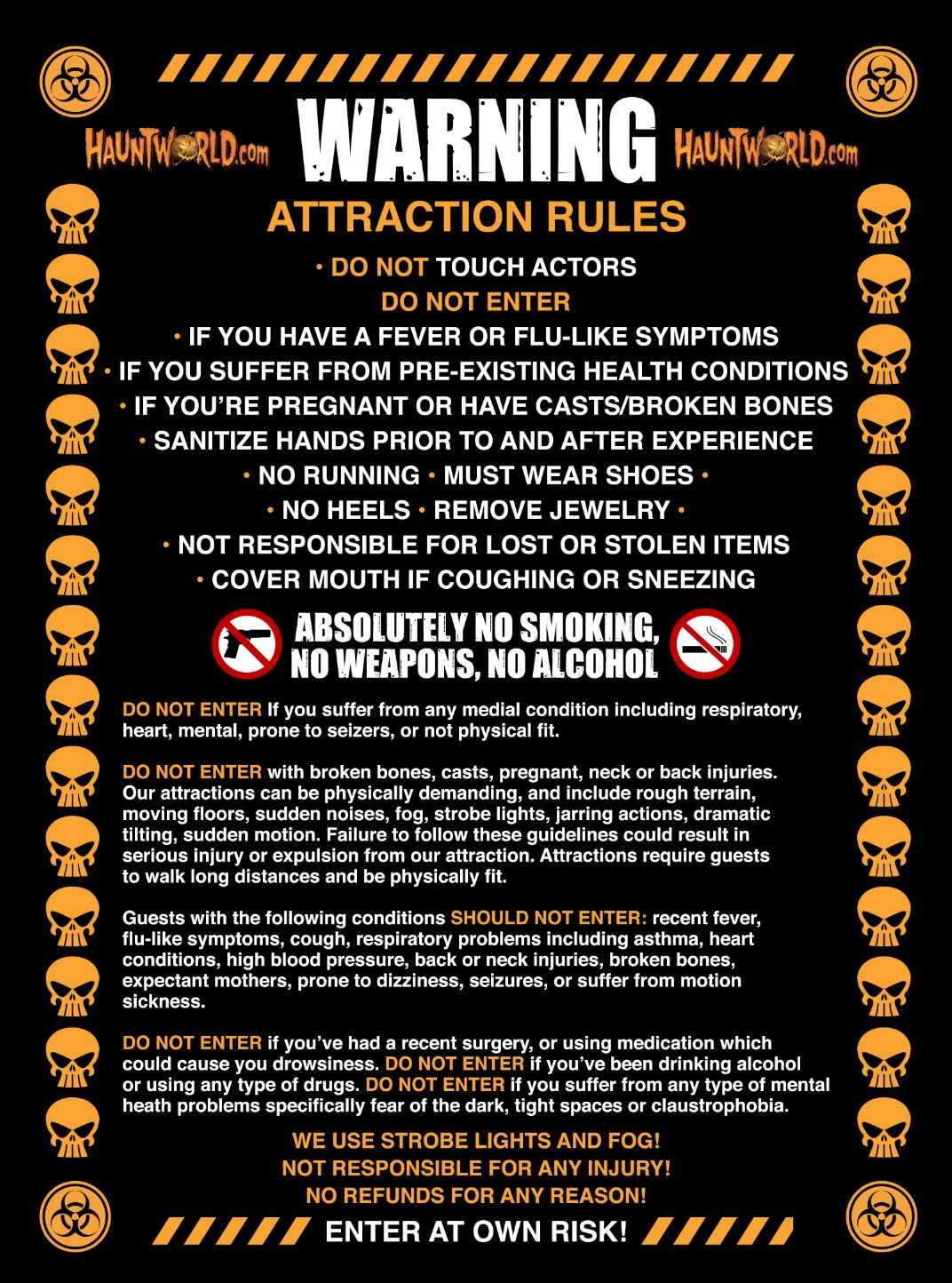 Operating your haunted house prior to covid was stressful but now it just got taken to a new level! Here is where a lot of haunted houses are driving their business into graveyard. Most haunts are listening to the WRONG PEOPLE. Take this website called HauntPromise.com (OMG)... essentially their site platform statement is a promise to keep you safe if you attend one of the pledged haunts. Most of your actors could have COVID and have no symptoms, no amount of temp checks will keep covid people out of your haunt. Unless you have some INSTANT test for every staff member and every customer you can't make any promises but to do your best. I'm not sure if you know this or not but most young people who get COVID don't even know they have it so what good is a temp check? We will still give temp checks to our actors but what about staff members with no symptoms how is a temp check helping you make promises you can't keep? You can't promise things like 'We will meet or exceed CDC requirements for cleaning and sanitizing all surfaces' that statement right there is just CRAZY! What kind of promise is that really? So you're going to clean every surface across a 30,000 square foot haunted house, how do you do that exactly? How long would that take? This website has to be the single most reckless thing I've ever seen in my 30 plus years of haunting because its basically setting you up for losing one lawsuit after another.

When I visited this website the first thing it should have said was "WE CAN'T PROMISE ... however here are the precautions we're taking to make our attractions more safe'. You can't promise your customers you're going to keep them safe from covid because anyone who gets covid is going to blame you! Heck you made a pledge a promise to EXCEED CDC requirements. WOW is all I can say!




I reached out to the person who created this website, and he told me he agreed with most of my points and was going to change the website. It wasn't changed but even if it is changed, do you really want to make a PLEDGE to keep people safe when you have NO ability to do so? This is totally and utterly irresponsible website and anyone who makes these claims on their own websites sounds DESPERATE. You need to be upfront and honest with your customers as I do every single year. We put warnings on our website, tickets, giant banners all around the haunt telling people DO NOT ENTER if you suffer from ANY kind of medical condition ENTER AT YOUR OWN RISK!

Do you need to make changes for the COVID Halloween yes but you have to be SMART! You can't follow some 100 page document, you need a plan that is manageable and something you can live by. Remember anything you put out there in writing you'll need to stand behind 110% if you're sued, or if some health official shows up at your door. Every single person who works for you will be called in as a witness to disprove you followed in this websites claim to "EXCEED CDC ALL REQUIREMENTS'. DO THE SMART THING and create a plan that is simple but effective while WARNING YOUR GUESTS about the risks.




Stop listing to people on facebook, because 90% of the people on facebook don't know what they're talking about. Remember this is your business, and you not only have to survive 2020 but what if you damage your brand for the long term. Just by opening you'll have people who think you're a bad person, you'll have people trying to catch your guests not wearing masks, and they will expose you! Crazy people might fly drones over your lines, and who knows what else. Don't think about 2020 think about the future of your business. Be smart in 2020 and be HONEST with your guests and staff that is the ONLY responsible thing to do! It starts with a COVID WARNING PAGE that states you can't promise anything but you're taking the following precautions.

See our warning signs as examples of what you'll see when visiting our website or attractions (Darkness and Creepyworld).


We need to save the industry and if we flush it down the toilet there won't be another haunted house tradeshow, their won't be anymore vendors their won't be anything left to save. Yes your attendance is going way down you already know this, just aim for paying your bills then grind it out to 2021. We're haunters we can do anything if we stay focused and be smart. Get back to the Hauntworld Fright Forum so we can discuss owners only issues that impact your business.

We can run our haunted houses safe this year, but over promising anything is a bad move that could destroy your business over the long term. People say all kinds of things about me personally 99% is NOT TRUE but who cares. You can bet there is ONLY ONE person in the ENTIRE industry that has never lied to you, never misled you, and always tried to put the facts on the table. I've offered all my experiences, all of my knowledge, whether you agree with me on every issue or not trust me on this one. Good luck in 2020!