Marion Fair's Haunted House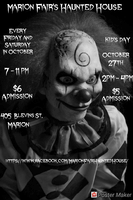 Haunted Houses

Suitable for all guests and families (HALLOWEEN FUN)
Join our email list to receive discount offers and updates.
Ticket And Price Information
$6 admission per person

Every Friday and Saturday in October. 7 - 11 pm. Open regardless of weather.
405 South Blevins Street, Marion, Michigan, 49665
RULES:
• No refunds.
• One (1) entry per purchase.
• No touching, hitting, spitting at, pulling, etc any actors, props, or tarps. (You may get bumped accidentally.)
• Walk please. No running.
• No masks or costumes on customers.
• No flashlights, cellphones, etc. for light.
• No recording video or taking pictures inside. (You may ask for pictures with actors after you've been through. Please provide your own phone or camera.)
• No food, drinks, or smoking inside.
• Leave backpacks, purses, etc. in your vehicle. (We are not responsible for lost items.)
• Arriving visibly under the influence of drugs and/or alcohol may result in customers being turned away.
*Breaking any rule may result in you being escorted out without a refund.
**WARNING**
Those suffering from health conditions including but not limited to: seizures, asthma, heart, mental, physical, etc. as well as pregnant women should enter at their own risk.
Please know your limits.
We are not responsible for any injuries and we reserve the right to refuse entry to anyone.
Fog machines, strobe lights, loud noises, low visibility, claustrophobic pathways, sudden scares, phobias, etc. all inside.
ENTER AT YOUR OWN RISK!