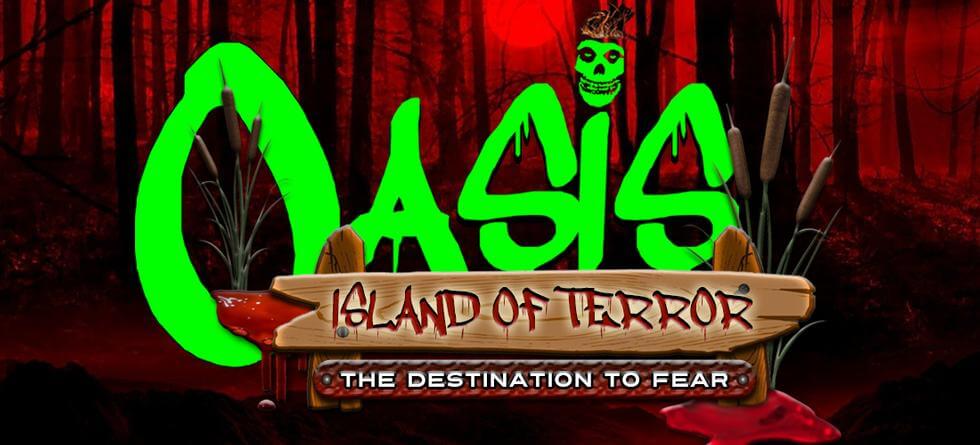 ABOUT "Oasis Island of Terror"
Oasis Island of Terror offers a unique haunt experience designed to heighten your inner fears and senses. It's New Jersey's most realistic walkthrough haunt that's soon to be your destination to fear! AS WE PREPARE FOR YOUR ARRIVAL, YOU SHOULD PREPARE FOR YOUR SURVIVAL! NEW for 2018, Oasis Island of Terror presents the SAWMILL ESCAPE ROOM. The traps are set, the clues are hidden, the clock is ticking. Live or die, the choice is yours! The time has come to face the heart-pounding, teeth-grinding, cutting-edge, escape room experience that will blow your mind! WILL YOU SURVIVE, AND ESCAPE THE MILL? The "SAWMILL" is the most realistic escape room experience, where the last piece of the puzzle is YOU! LET THE GAMES BEGIN! The SAWMILL Escape Room is a 20 minute escape room challenge that truly blurs the lines between reality and fiction. First escape game begins at 6 p.m. A new game begins every half hour. The last game begins at 10 p.m. Maximum of 6 participants per game. If less then 6 participants in your group, your group may be paired with other participants. If you would like to book a private escape room game for just your friends, family or coworkers and do not want other participants to join you, please purchase all 6 available tickets for the specific date and time slot. Tickets are sold on-site only, and are sold on a first-come, first-serve basis.
3Circle Drive, Trenton, New Jersey, 08691
609-259-7300

Haunted Houses

Suitable for all guests and families (HALLOWEEN FUN)
Join our email list to receive discount offers and updates.
Ticket And Price Information
OASIS ISLAND OF TERROR - $30 PER TICKET (Purchased at ticket booth). SAWMILL ESCAPE ROOM - $20 PER TICKET. Tickets for the SAWMILL are limited, and are sold on a first-come, first-serve basis.

Oasis Island of Terror VIDEOS
Oasis Island of Terror PHOTOS
3Circle Drive, Trenton, New Jersey, 08691