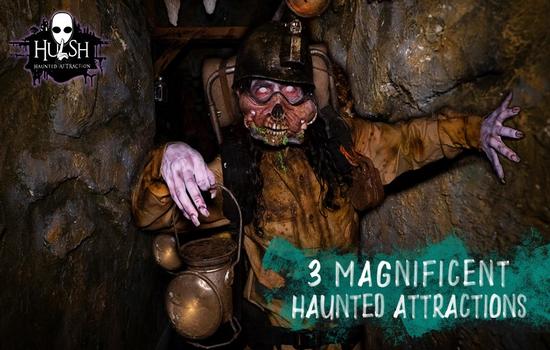 ABOUT "HUSH Haunted Attraction"
Welcome to HUSH: One of the greatest haunted houses in Michigan. Brimming with fearful atmosphere and spine-tingling scares lurking around every corner, Hush earns its stars by striking at your deepest, darkest fears. Once you enter, you are at the mercy of the monsters inside. And it will be the most fun you'll have while getting scared! HUSH Haunted Attraction has earned a local and national reputation being ranked as one of Metro Detroit's BEST Haunted Houses. Known for Hollywood quality sets, high quality actors, and an action packed, heart pumping layout HUSH is back for the 2021 season, bigger and more intense and immersive than ever! Our Mission is Simple. We aim to provide unique, seasonal immersive entertainment experiences in the heart of Metro Detroit. Our award-winning actors and movie-quality sets come together to create a trip worth losing sleep over.
37550 Cherry Hill Road, Westland, Michigan, 48185
7345026026

Haunted Houses

Recommended for Guests 12 and over (SCARY)
Haunted House
Gift Stores
Join our email list to receive discount offers and updates.
HUSH Haunted Attraction VIDEOS
37550 Cherry Hill Road, Westland, Michigan, 48185
Disclaimer & Legal Responsibility
Hush Haunted Attraction reserves the right to refuse admission to anyone. You will experience intense audio, lighting, extreme low visibility, strobe lights, fog, special effects, and overall physically demanding environments. You should NOT enter this haunted house if you suffer from asthma, heart conditions, physical ailments, respiratory or any type of medical problem, claustrophobia, any mental illness, are prone to seizure, or are pregnant.
Do not enter the attractions if you are intoxicated, wearing any form of cast, medical brace, using crutches, or have any type of physical limitations. Do not enter the attractions if you are taking any type of medication or using drugs of any type. You will not be admitted if any of these conditions are notified to our staff.
Hush Haunted Attraction is not responsible for lost or stolen items. Do not take your phone out of your pocket. Leave all valuables at home.
By entering the haunted houses at Hush Haunted Attraction, you acknowledge that the attractions may be inherently dangerous and that they are extremely dark. Enter at your own risk. You must be extremely vigilant. By entering, you voluntarily assume the risk of personal injury or death.
BY VISITING THE PROPERTY, YOU VOLUNTARILY ASSUME ALL RISKS.
Rules of the Haunted House
DO NOT ENTER if you have a recent fever, flu-like symptoms, sore throat, or cough.
Do not smoke, run, eat, drink, touch the actors, customers, or props. Take off all jewelry before entering. No high-heels are permitted. You must wear close-toed shoes at all times. No video or flash photography may be used inside the haunted houses. Sources of light not provided by Hush Haunted Attraction are prohibited, included phone lights and non-permitted flashlights. You will not be admitted and asked to leave promptly if rules are not followed.
Video & Photography
Hush Haunted Attraction may take and use images & video of all guests. Hush Haunted Attraction at all times reserves the right to videotape patrons, and take still images, and to utilize those images and videos for any reason, including marketing, advertising, promotion, on social media, live streaming on the Internet, for safety and security, for documentation as evidence in a legal or criminal matter or other investigation, for news reporting, and otherwise in an unrestricted manner for legitimate purposes. All property ownership of such materials, and copyright in and to all such materials, shall belong exclusively to Hush Haunted Attraction in perpetuity, without any compensation or other consideration to any guest or other person in, on or around the Hush Haunted Attraction property or parking lot.
Operational Policies
Prices and operating schedule are subject to change without notice.
All attractions are subject to temporary maintenance, safety or inclement weather shutdowns.
In the event of an earthquake, fire, power outage, flood, terrorist attack, bomb threat, a violent stand up/heist, or any type of false alarm that causes Hush Haunted Attraction to shut down, Hush Haunted Attraction is not responsible for issuing a refund to ticket holders.
Hush Haunted Attraction is not responsible for issuing refunds should the event close down as required by the state or county due to the COVID-19 pandemic.
These park rules & policies are not comprehensive, and are subject to change without notice. The park may have numerous additional rules and procedures applicable to guests which, if not followed, may subject the guest to ejection without refund.