The Haunting of The Ada Witch

One can't say "haunted West Michigan" without hearing the story of the deadly love triangle that spawned the "Ada Witch.
Honey Creek and Conservation Drive, Forest Hills, Michigan, 30436
This attraction is miles from your location. MAP IT NOW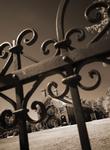 During the 1800s in the settlement of Ada, a young married woman would sneak out to meet her lover near the area now known as Seidman Park. One night when her husband followed and caught her in the arms of her lover, he started a fight, during which all three were killed. "People have reported at various times seeing a woman in a long white dress walking along the roadside. When people draw close, she dissipates," said Deb Millhuff with the Ada Historical Society. "The legend goes that on a full hunter's moon, you see the woman. Sometimes she's alone and sometimes with both companions." Stories place sightings near Honey Creek and Conservation Drive, or within a few miles of the Findlay Cemetery. Though the story has grown to include broken tombstones, sounds of a mysterious being taking flight and a ghostly reenactment of the fatal scene, the sightings live on.
Honey Creek and Conservation Drive, Forest Hills, Michigan, 30436