About sixty years ago, an elderly woman was making her way up this hill when her car ran out of gas. The woman got out of her car and began pushing it up the hill. She was not very strong, however, and eventually, the car rolled backwards on top of her. As she lie there, injured, an oncoming truck ran over and killed the woman. Today, if one puts his car in neutral at the bottom of the hill, the old woman will push it to the top.
Keller Hill Road, Mooresville, Indiana, 46158
This attraction is miles from your location. MAP IT NOW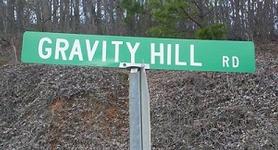 An unnatural effect known by locals. You think you're going downhill, but your car has other ideas. Roll uphill at your own risk! "My friend and I just got back from the hill. We put our car in neutral, heading away from Hwy 42 at the smaller hill. We didn't realize for a minute we were being pulled backward, up the small hill. Then we turned the car around to face Hwy 42. We were pulled up the hill, at a very steady speed, all the way to Hwy 42, before we finally put the car in drive! It was unbeliveable. I'm going back to experience it again, now that I understand what to expect." [Debbie and Kelli, 06/12/2012]
Public road. Hazard flashers recommended. Use at your own risk. - I-70 exit 59. One mile south on Hwy 39, then left onto Keller Hill Rd. Drive Keller Hill Rd east 4.5 miles until it ends at Hwy 42, then make a U-turn and drive back west on Keller Hill Rd for one mile. The anti-gravity apparently only occurs eastbound, one mile in from Hwy 42. It is NOT marked, but just before you reach the large silo on the right, line up your car with the large old tree on the right.
Keller Hill Road, Mooresville, Indiana, 46158