Circle N Maze - San Antonio Corn Maze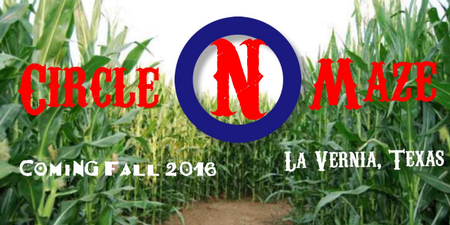 Circle N Maze will be operated on the back 80 acres of Circle N farm, located off Dry Hollow Rd. Fifteen acres of the land have been planted and ten will have the design cut into it. This years design will be, "The Headless Horseman." Circle N Maze will have a pumpkin patch with picture stations, animals to pet, and maybe even bottle feed! We will also have multiple vendors so you can eat and shop!
558 County Road 345, La Vernia, Texas, 78121
This attraction is miles from your location. MAP IT NOW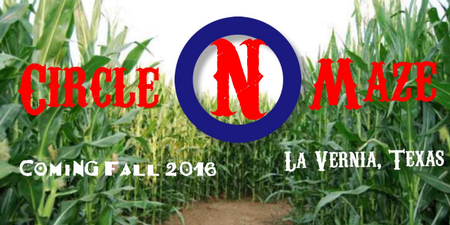 History of Circle N Our La Vernia roots go back to Charles T. Scull who was born in La Vernia, Tx in 1853. His son Walter Gambier Scull was born in La Vernia in 1844, and married Catherine Neighbors in 1920. This is where we get the "Circle N" name, after Catherine. Ross Owen Scull was born in 1929 and married Mary Alice Waltisperger in 1953. Ross and Mary ran Circle N Dairy here in La Vernia for many years. Today Circle N has a beef cattle and hay operation, ran by Danny Herley and Laura Scull Herley. Drew and Caylin Herley are excited to continue the farming tradition by bringing Circle N Maze into La Vernia.
The 2016 design is in, and it will be "The Headless Horseman!" The particular design has 3 different level mazes built into it, so even our smallest visitors can enjoy!! Here in La Vernia! This years game at Circle N Maze will be "The Farm Monster Mystery!" Enter the maze to find the hidden clues to determine which farm animal has the weapon, and defeat the monster! - 2016 Season: September 24- November 20 General Admission (3-64): $10 Seniors (65+) $7 Children 2 and under are free! Whats included : Maze access, pumpkin patch, farm animals, petting zoo, games, food trucks and more!
558 County Road 345, La Vernia, Texas, 78121