Find Zombie Run For Your Life - Zombie Haunted Attractions

Recently I attended an event produced by www.runforyourlives.com in St. Louis, Missouri where runners pay for a three mile race through the woods, past hoards of zombies and obstacles. Each runner has three flags attached to their body much like a flag football game. Runners then enter the course filled with obstacles such as the blood splash pool, foggy maze, mud pits, climbing challenges and of course…ZOMBIES! All across the country people are trying to find zombie themed haunted attractions, zombie haunted houses, and now zombie 5k obstacle runs. Learn all the details and we'll rate and review plus help you find every type of zombie themed attraction in America. Remember to find haunted houses nationwide CLICK HERE
On the day I attended there were approximately 5000 runners and over 800 "flesh-eating" zombies who attempt to grab the runners' flags. If a runner has at least one flag remaining at the end of the race they survived. Otherwise you are considered eaten!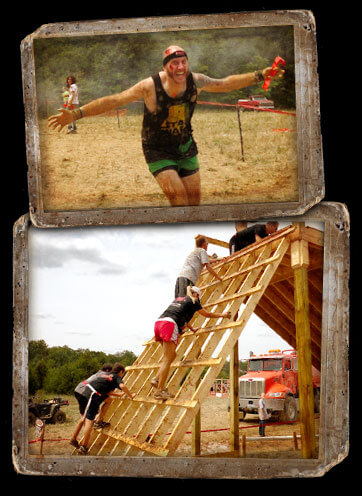 Runners paid $85 to participate and Zombies paid $35 for the privilege to chase the living! What was interesting was the wide variety of people who showed up in costumes, and even running teams with matching shorts, socks and even custom-made shirts with team name created JUST for the event. It was pure fun for everyone who attended. Running from zombies and experiencing that creative interactive fun coupled with all of the social experiences of the day made this event a true success. Everywhere I looked, there were people laughing, smiling and snapping photos of each other and no-doubt planting those pictures on their Facebook and Twitter with a click of a button! This gathering was more of a social event for most of the people I encountered, and the organizers fueled that by offering overnight camping, rock bands, food and drink tents, beer, sponsors and more!
The event took a massive amount of people to operate from endless water trucks, food vendors & security, to people who helped wash off the runners, make-up artists for the zombies and more. I would guess this event required upwards of 200 workers for a one time one day event. The overall experience was a new and fresh entry into the haunted entertainment craze that seems to be sweeping the country. In St. Louis alone there are 3 or 4 more of these events planned. It became clear to me that there is a new form of haunted entertainment being offered around the country and it's not confined to October. In fact, these could be sweeping the country. Zombie mania is in full affect and growing! I would suggest to anyone looking for something new and different to check out a local Zombie Run especially one that includes an obstacle course filled with flesh eating Zombies!

Every person I talked to who shelled out the $85 to run and get muddy, plus paid the $10 to park, plus additional money on food and drink said it was worth every penny! The average cost per customer was probably north of $100. With that being said, it's obvious there's no limit to what people will pay for horror entertainment.

What was once "Halloween-related" is no more just Halloween-related. Americans are fully committed to celebrating horror year round. Haunted Houses have their work cut out for them to find new ways to keep their customers entertained in this ever changing World of Halloween attraction mania. What is next? Whatever it is we'll be here to report on it!
Stay scary!
Larry Kirchner, owner of Scarefest.com