Haunted House in Austin Texas Scream Hollow Wicked Halloween Scream Park

Austin, Texas - Scream Hollow Wicked Halloween Park
By Eltan Machala & Zoe Bird
Austin Haunted Houses are some of the scariest and best in America! Hauntworld.com rates and review the best and Scariest haunted houses, haunted attractions, and Halloween events in America! Scream Hollow is located in Austin Texas. Texas Haunted Houses have become big business over the last couple of years. Scream Hollow is one of the best and scariest haunted houses in Texas. Read the full review and story of the Scream Hollow in Austin, Texas. Scream Hollow Wicked Halloween Park is one of the most massive, scariest, biggest haunted attractions in the entire state of Texas. Hauntworld takes you behind the SCREAMS to see what makes this Haunted Halloween Attractions one of the ultimate haunted houses in Texas. Please share this page and leave your reviews of one of Austin Texas best and scariest haunted houses.
To learn more about Texas' Scream Hollow visit their websit below:
Austin, TX is known for being a vibrant, eclectic and dynamic city. Austin is proud of it's uniquenessand its tag line of "Keep Austin Weird". Austin, however, is about to get weirder and wicked!
There is a cold, seeping dread creeping amongst the moonlit forest of the Texas night... There is something evil in these woods, something ominous. Is it the reports of paranormal happenings at the Saint Adella mansion? Or maybe some biological freaks of a military experiment run amok? Or perhaps the eerie laughter of an insane clown as he wanders through a cannibal Circus from Hell?
Enter Scream Hollow, Austin's newest attraction, a nearly 20-acre Halloween theme park, located just 30 miles east of Austin, in Bastrop County. Scream Hollow is quickly becoming one of the top haunts in the country and is everything Halloween you ever wanted. Here are the top 10 reasons why you should visit Scream Hollow this Halloween:

1.
Scream Hollow is the brainchild of haunted-house guru Norm Glenn. Norm is a master of the scare, and an outstanding Halloween visionary. Norm has been scaring people for over 20 years, and has perfected the art to a science. Scream Hollow is the product of combining the next generation of the Mansion of Terror Haunted House, which reigned as the scariest haunted house in Austin for 7 years and voted the #1 haunted house in the nation by Lions Gate Films. His creative outlet is paired with a long-term vision of having a permanent location, the manifestation of 20 years worth of captured haunt ideas, and the masterful manipulation and creation by the Scream Hollow crew. "I am passionate about everything Halloween and Haunted Houses; my mission is to create a truly terrifying haunt experience.

Scream Hollow will provide a fun and safe environment for everyone to enjoy haunted houses, but they will leave terrified from an adrenaline-filled adventure! That's what people want. We spent 3 years on this project with a crew of 78 builders, carpenters, set designers, partners, prop designers, and lighting and sound technicians," said creator and owner Norm Glenn. "Scream Hollow is already one of the largest haunted houses in the country with over 70,000 hours invested in the project before we even open our doors." With that amount of planning, building and implementing, scares come guaranteed!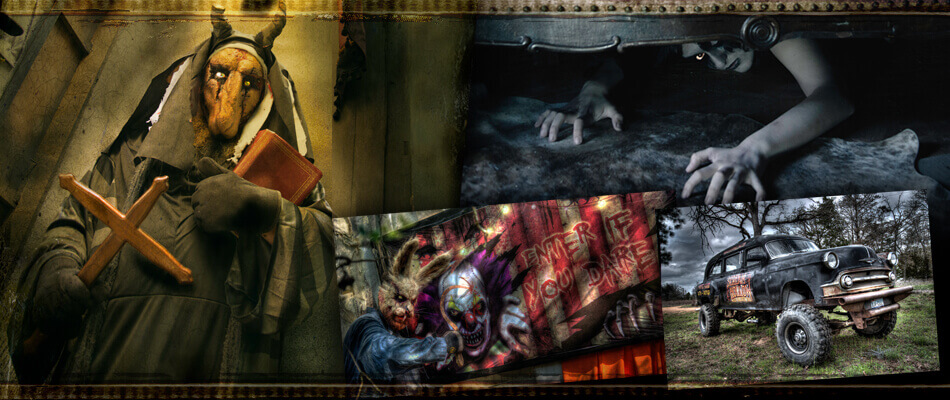 2. Mansion of Terror : Phantoms is one of three horrific haunted houses at Scream Hollow Halloween Park. Some may recognize the name, as this is a beefed-up incarnation of Austin's award-winning Mansion of Terror.

The creepy mansion is a two-story abandoned Victorian-mansion built inside an actual forest. Story has it that in late fall of 1842, a beaten wagon-train limped into the Bastrop area containing only the children survivors of a horrific journey. Adella, a local spinster, took in the orphaned children. She built an orphanage among the towering loblolly pines, yielding plenty of wilderness for the children to play. The locals called her Saint Adella; however this was far from the reality, as none suspected the terror that lay within the ornate walls of this enormous mansion, or of Adella's obsession with black magic and the conjuring of spirits from the other side. The truth of the situation became apparent with the mysterious disappearance of Adella, the discovery of children graves in the mansion's ghostly chapel, and the magical and paganistic items left behind in the mansion. The gates of the Mansion were closed long ago to protect unknowing travelers from entering accidentally. However, the locks have now rusted off and the mansion gates are open with no one to protect those who enter it's walls. Sounds are beginning to fill the grounds of the mansion again, and if you listen intently, you can hear the nursery rhymes coming through the walls and the faint screams of children from the basement below the mansion.

3. Lost Pines : Zombie City is the second of Scream Hollow's frightening haunted house experiences. Lost Pines is a small town in Texas which holds a deadly secret. The town of Lost Pines has been contained and abandoned for 20 years. For reasons unknown, Lost Pines was evacuated and locked away from the public following the installation of a military outpost surrounding the city. No one was allowed in or out, and the town became closed and abandoned…until now. Recently, one building started humming with some sort of activity.

A group of "cyber punks" hacked the security system, convinced that government was creating a deadly biological-weapon. They were half-right. Top-secret papers stolen from the military outpost show that something went wrong with experiments and weapons created in the city of Lost Pines, and that government feverishly tried to recreate the mysteries of their biological discoveries, attempting to control the weapon's effects. They wanted to develop a vaccination before releasing knowledge of the weapon. However, something went wrong in the process and the city was quarantined and secured, leaving so many questions unanswered. What happened to the people in the town? Where is everyone? Why is the military outpost abandoned? Can you discover the secrets in Lost Pines Zombie City? More importantly, can you survive and find your way out???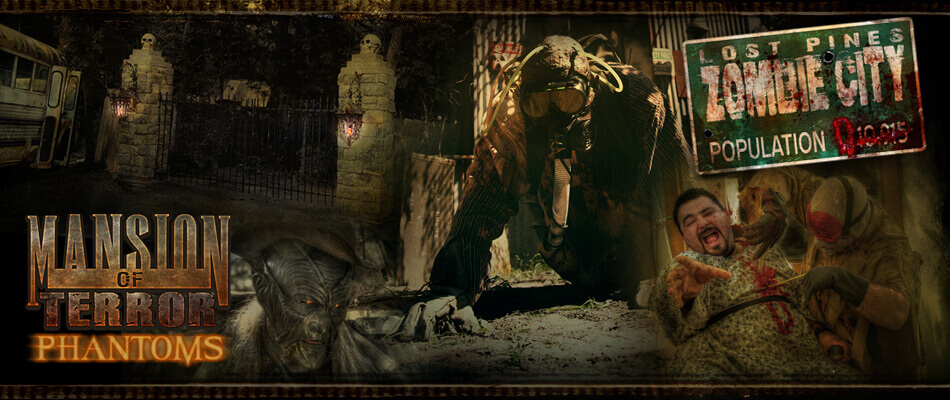 4. Slaughter Circus is the third haunted attraction at Scream Hollow. Slaughter Circus is the traveling entertainment extravaganza provided by Vicious T. Mangles and his crew of psycho clowns.

When we last saw Mr. Mangles and the Slaughter Circus, they were traveling city-to-city looking for a permanent location and a steady stream of unsuspecting victims. They eventually settled in the back woods of Bastrop, Texas. Tents and rides were set up amongst the tall pines and magnificen oaks providing a grand setting to lure the locals with a carny spectacle; Thrills and scares were contained within the curtain walls with bloody popcorn, tortuous acts, and the grand finale: DEATH.

But little did Mr. Mangles and his crew know that these woods were already occupied by the Palmer Family. The Palmer's dated back to the 1800s with a history of bloody cannibalism. For over two centuries, Native Americans avoided the area and set-up warning stones around the Palmer woods. The entrance to the Palmer's redneck Hell was adorned with human spines and fresh skulls impaled on trees. Local tribes whispered legends of wicked ghost screams coming from the woods in the dark of night. Multiple disappearances across Bastrop County point directly to the Palmers sacrificing their victims in their demonic rituals. When the Palmer Family discovered Slaughter Circus on their land, they were enraged. Their thirst for blood was overwhelming, and on the next full moon, they vowed to dismember and barbecue every last clown in sight along with anyone who got in their way.

The Palmer Family has surrounded the carnival, and is prepared for their epic massacre. However, Vicious T. Mangle and the Slaughter Circus are vindictive, ruthless, and ready to fight back. We dare you to enter the hallowed grounds of Slaughter Circus and come out alive!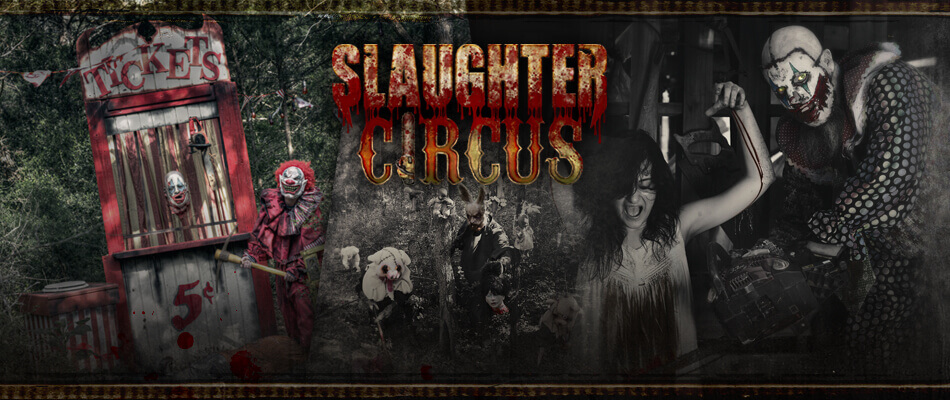 5. The Rabid Bat Vampire Bar : This is the place to rest, hang
upside
down and roost for the evening at Scream Hollow. This is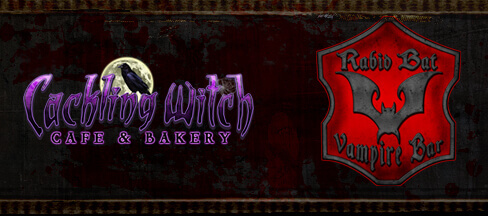 for all the
devious and
provocative creatures of the night. Come
explore the
lounge if you dare! We invite you to sip on a glass of blood red-wine, or some harvested cold beer on tap. The ambiance will take your breath away...and a free coffin ride if it really does!
6. Cackling Witch Café and Bakery : Come sit for a spell and see what Scream Hollow's Chef Kenny has conjured up with his delectable eats and treats to torture your taste buds! We have everything from Chicken and Waffles, to Turkey Legs, to Bacon Infused maple muffins, and everything in-between. Halloween- inspired foods to stimulate the senses and fuel-up guests between haunts.

7. Concessions and Vendors : Need some respite between haunts? Do you want to know if you will survive the terrors of the park? Visit one of Scream Hollow's many vendors, including Fortune Tellers and Tarot card readers to discover the answers to your future.

8. Live Music and Entertainment : Scream Hollow has its own stage and offers live music during the Halloween Season. With such proximity to Austin, TX: "Live Music Capital of the World", it goes without saying that exciting new bands and outstanding live music will be showcased at this entertainment destination.



9. Free On-site Parking 2015

– that's right FREE! Scream Hollow provides its patron's with free on-site parking with safety lighting, HD video monitoring, and uniformed officers. Scream Hollow considers the safety of its patrons first and foremost, so that fun can be had by all!
10. Affordable, fun entertainment for the whole evening. Scream Hollow provides its patrons with a choice of ticket pricing to suit every pocket. Scream Hollow is an evening destination, full of everything wicked and Halloween, but it won't leave your pockets feeling burned. You choose how many attractions you wish to visit. Tickets range from $5-$25 with discounts available for groups of four. Tickets can also be pre-purchased online for your convenience at ScreamHollow.com. What are you waiting for? Your Halloween adventure awaits you!
---
So there you go! These are the top 10 reasons to visit Scream Hollow this fall.
Opening September 18, 2015, come experience this wicked Halloween park for yourself to discover many more reasons to visit.
Are you prepared to be scared?!


Are you ready to get wicked this Halloween?!



For more information, tickets, location and upcoming events
visit http://www.ScreamHollow.com

You can also find Scream Hollow on Facebook Page: Scream Hollow Bastrop Texas 2015
and on Twitter and Periscope: @Scream_Hollow